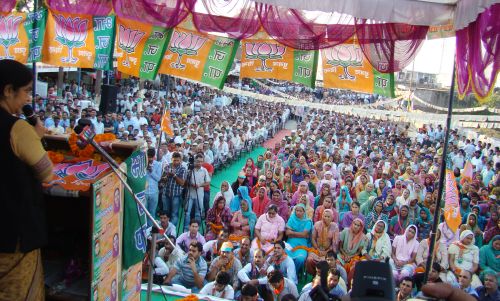 Election campaign is picking up momentum in Himachal Pradesh and senior national leaders from congress and BJP, NCP and others are addressing public rallies in state. After Congress national president Sonia Gandhi's rally not it is turn of BJP stalwart Sushma Swaraj addressed rally in state.
While addressing party workers, she accused the UPA government of making new records in corruption. She stated that UPA Govt has shamed Indian Parliamentarian system by its never ending scam spree. She alleged that dozen of its union minister and other partymen have even been sent to jail for their involvement in many cases. Coalgate, 2G, 3G, Commonwealth Game scam and many others are live example of it.
She said prices of commodities have increased due to the government's wrong policies. While attacking Prime Minister Manmohan Singh, she said that once the Prime Minister said that money does not grow on tree, but it that money falls in the pockets of Congress leaders, she alleged.
Swaraj also defended party president Nitin Gadkari on alleged corruption charges levelled against him. She claimed that Gadkari is clean and it's Congress' dirty trick to implicate him to divert media and electors attention from their scam spree.
The Himachal Pradesh is going to poll on Nov 4 and counting of votes will be held on Dec 20.