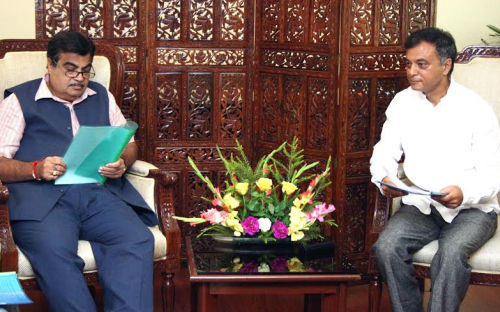 New Delhi: Rural Development and Panchayati Raj Minister Anil Sharma today met Union Minister for Road Transport, Highways and Rural Development Nitin Gadkari at New Delhi and demanded immediate release the State share under MGNREGA.
Anil Sharma also demanded Union Minister to allow the State to make provision for 'crop protector' under the scheme.
Anil Sharma informed Gadkari that the State Government was giving daily wages of Rs. 154 per day under MGNREGA and urged to enhance it to Rs. 170 per day on the analogy of other daily wagers in the State under Minimum Wages Act.
He also requested for increasing annual target under Indira Awas Yojna from 4688 units to 7000 units. He said that the budget for per unit under the scheme should be enhanced as per the construction cost.
Sharma urged Gadkari to enhance the allocation for general category IRDP proportionate to the population of the general categories in the State.
Gadkari assured them that Central Government would provide all possible assistance to the State.