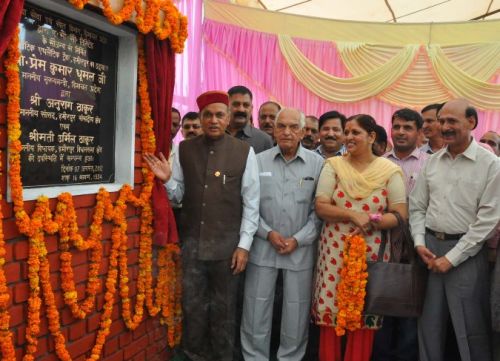 Chief Minister Prem Kumar Dhumal dedicated world class 400 meters long synthetic track, constructed at a cost of Rs. 6.5 crore, to the sports persons at Annu in district Hamirpur. Dedicating the track to sportspersons of the district, Chief Minister congratulated the Department of Youth Services and Sports for establishing a landmark in sports history in the State by providing world class synthetic track infrastructure facility to the students and youth of the district. He said that the synthetic track would also include facilities for training Hammer Throw, Discuss Throw, Shot Put, Pole Vault, Long Jump, High Jump and Triple Jump and Javelin Throw.
Prof. Dhumal said that the track matches international requirements forholding national and international athletic events. He said that the track would also consist of a pavilion in a stadium design as also protected from entry of unwanted entrants by constructing a high boundary wall. He hoped that the local youth would take benefit of the facility and actively involve themselves in athletic and allied activities.
Chief Minister thanked Ambuja Cements and ACC for partially funding construction of two synthetic athletic tracks at Hamirpur and Dharamshala, as a part of their corporate responsibilities. He hoped that other business houses would take inspiration from cement companies and come forward by sharing cost of various developmental projects in different sectors to supplement the quality infrastructural creation endeavours of the State Government.
Ravinder Singh Ravi, IPH Minister, I.D.Dhiman, Education Minister, Urmil Thakur, MLA, R.S.Mankotia, Chairman, Kangra Central Cooperative Bank, Narender Atri, State BJYM President, Rajender Singh, DC, Madhusudan Sharma, SP, other senior officers and prominent people of the area were present on the occasion.