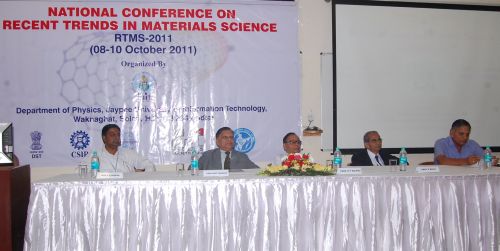 A three day (8th – 10th Oct, 2011) national conference on "Recent Trends in Materials Science (RMTS-2011)" was inaugurated by R. P. Bajpai, the former Vice-Chancellor of Director CSIO Chandigarh. Prof. S. Basu, Research advisor, Jadavpur University, Kolkata was the Guest of Honor., Prof. Ravi Prakash, Vice-Chancellor JUIT and Brig. (Retd.) Balbir Singh, Director JUIT graced the occasion. The inaugural session was convened by Prof. P.B. Barman and Prof. Sunil Kr. Khah.
This National Conference is being organized by the Department of Physics, Jaypee University of Information Technology, Waknaghat, Solan, H.P. The aim of the conference is to exchange the expertise and information about the research and development made in materials science recently. Materials Science is an interdisciplinary field applying the properties of matter to various areas of science and engineering. Since the dawn of development of science, researchers have developed wide variety of materials for the use of mankind. The research interests on materials are now focusing on their usage and application in devices. Exciting materials with interesting applications and properties have been developed so far and are being explored worldwide. It incorporates elements of applied physics and chemistry. With significant media attention focused on nanoscience and nanotechnology in recent years, materials science has been propelled to the forefront at many universities. The aim of this conference is the exchange of expertise and information about the development and discoveries made so far in this direction.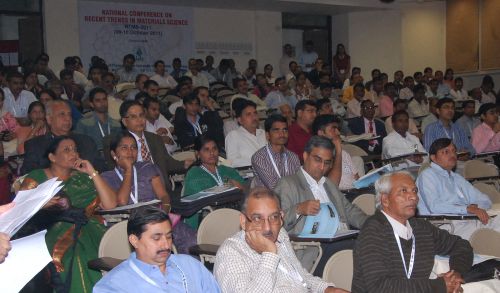 The conference will focus on wide range of topics on Materials Science, dealing with the recent developments in materials and technologies Some specific topics to be discussed in this conference are: Functional and Bio materials, Nano materials, Non-linear crystals, Glasses, Ferrites, Polymers etc. Distinguished speakers including Prof. Ajay Gupta (UGC-DAE Consortium for Scientific Research, Indore), Prof. Ravi Kumar (NIT Hamirpur), Prof. Tarashankar Pal (IIT, Kharagpur), Prof. B.D. Malhotra (NPL, New Delhi), Prof. A. K. Pal (Jadavpur University, Kolkata), Prof. V. M. Pillai (National Chemical Laboratory, Pune), Prof. Gautam Kurukshetra University, former Vice-Chancellor GJU Hisar and former De (CGCRI), Prof. Mahavir Singh (HPU Shimla), Prof. C. H. Bhosale (Shivaji University Kolhapur), Prof. V. K. Syal (KIIT Gurgaon), Prof. M.M. Sinha (SLIET Longowal) are going to share their thoughts and vision on the recent development in materials science with more than 200 researchers across the country.