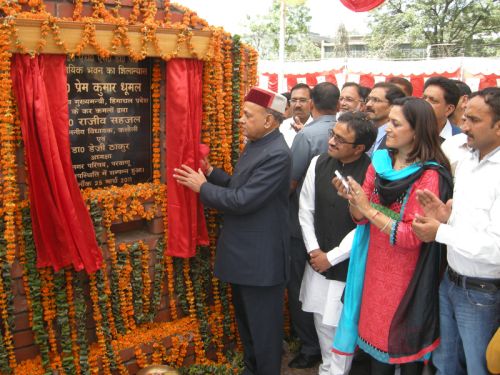 Chief Minister Prof. Prem Kumar Dhumal today laid foundation stones and inaugurated various schemes in public and private sector worth Rs. 26 crore in Kasauli constituency of Solan. He laid foundation-stone of Rs. 12 crore community centre under Integrated Housing and Slum Development Programme. He also inaugurated 7th unit of Anand Automative Group.
Speaking on the occasion, Prof. Prem Kumar Dhumal said that as a result of industrial policy of the State Government, the process of industrialisation had been accelerated in the state with continuous flow of investment in industrial sector. He lauded the efforts of Anand Group to construct a park and sports complex at a cost of Rs. 40 lakh. He said that greater involvement of corporate sector and sense of corporate responsibility in matter of development would bring benefits of development to each person and every section of society. He said that private sector should come forward and adopt works of development in the society so that greater benefits could be percolated down at the lowest level.
CM said that the Government had launched integrated housing and slum development programme under which 192 dwelling units would be constructed by HIMUDA at a cost of Rs. 12 crore at Parwanoo for urban poors which includes two community centres each with a cost of Rs. 32 lakh. He asked officers of HIMUDA to complete these houses within one year for urban poors so that these houses could be allocated to poor families by March 2012. He said that working women hostel worth Rs. 4.15 crores to be constructed by Anand Group would go a long way in providing residential security to working women of not only Anand Group but also working women of other industrial units.
He said that Government had taken important initiatives for empowerment of women in the state. He said that labour hostels were also being constructed in the industrial areas in the State which would benefit both labour and industrialists. He asked industrialists to provide better residential facilities to their workers which would create healthy atmosphere in the industrial units as well as society.
K.C. Anand of Anand Group said that new plant at Parwanoo would manufacture PU molded filter elements, ecological plastic embedded filter elements, Lube Oil spin on filters and high technology air management products. It will give employment to 150 persons including 70 per cent employment to Himachali.