The use of technology in the judicial system can ensure transparency, productivity and efficiency, according to Chief Minister Thakur Sukhvinder Singh Sukhu of Himachal Pradesh. Speaking at the North Zone-II Regional Conference on 'Contemporary Judicial Development and Strengthening Justice through Law and Technology', the Chief Minister emphasized the importance of technology as an ally in bringing about change and strengthening the judicial system. The two-day conference, attended by approximately 160 judges of the Supreme Court of India, High Courts, and Subordinate Courts of Delhi, Punjab and Haryana, Uttar Pradesh, Jammu & Kashmir, and Ladakh, focused on the development of technology including artificial intelligence, cryptocurrency, and information and communication technology in courts.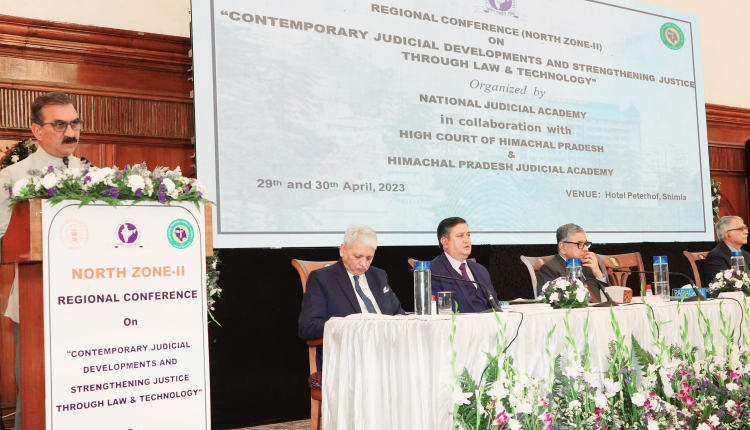 During his speech, Chief Minister Sukhu highlighted the importance of technology in making the judiciary more efficient, productive, and transparent. He said that modern technology has accelerated the functioning of the judiciary, and virtual hearings during the COVID-19 pandemic have been a boon for all, saving both time and money.
The Chief Minister emphasized that a reliable and speedy judicial system is essential for a healthy and self-confident society, and the delay in justice is one of the biggest challenges facing the country. He expressed hope that the conference would lead to new ideas and pave the way for legal reforms in the country, providing justice to the people at the earliest.
The conference is focused on deliberations on the development of technology, including artificial intelligence, crypto-currency, information, and communication technology in courts. It was organized by the High Court of Himachal Pradesh in collaboration with the National Judicial Academy Bhopal. The Acting Chief Justice of the High Court of Himachal Pradesh, Justice Tarlok Singh Chauhan, welcomed the distinguished guests, and Justice AP Sahi, Director of the National Judicial Academy Bhopal, and Judges of Supreme Court, Justice Sanjay Karol and Justice Aniruddha Bose, also spoke on the occasion. Justice Vivek Singh Thakur presented the vote of thanks.