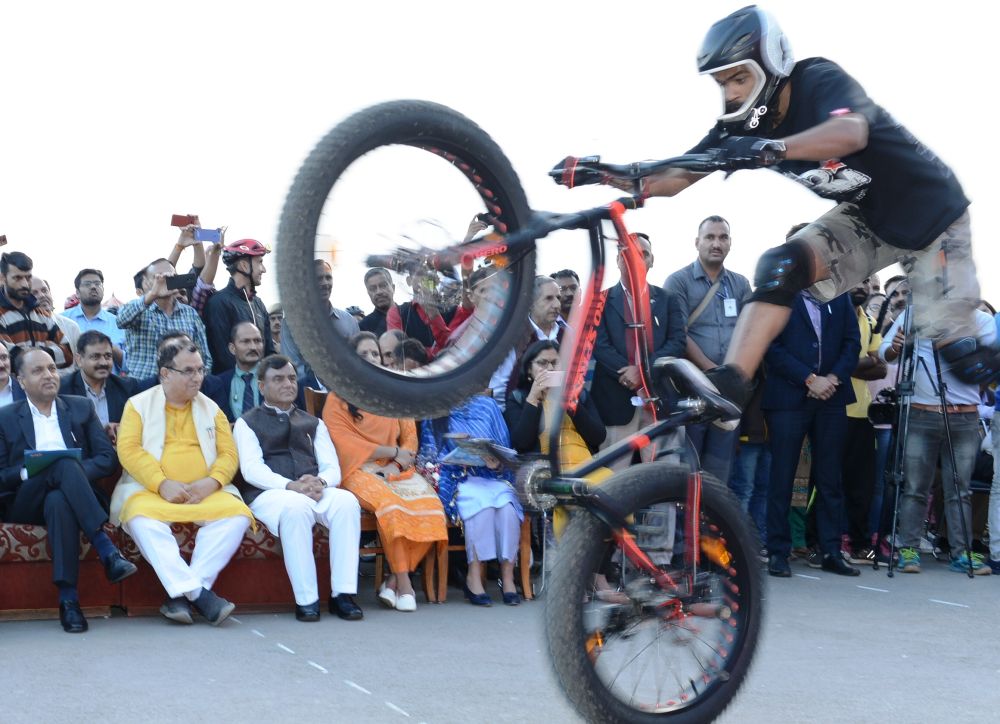 Shimla: Himachal Pradesh Chief Minister Jai Ram Thakur flagged off 14th Hero MTB Himalaya Rally from The Ridge Shimla today. The event is being organised by Himalayan Adventure Sports and Tourism Promotion Association (HASTPA) in collaboration with the State Tourism Department.
81 participants across 14 countries were participating in the event, and bikers would be covering a distance of 650 km during this event.
The Chief Minister appreciated the efforts of the Himalayan Adventure Sports and Tourism Promotion Association and stated that the State of Himachal Pradesh was most suited for adventure activities and especially mountain biking. He said that the State Government was committed to make Himachal Pradesh the number one state of the country for mountain biking. He said that there was immense potential for adventure sports in the State and the Government was committed to fully exploit this potential.
Chief Minister said that mountain biking was considered to be the biggest adventure sports in the world and the State has lot to offer for this sports. He said that events like mountain biking could prove beneficial for ensuring economic activities in the remote areas of the State. He said that MTB Himalaya provides a great opportunity to showcase the potential available in these areas.
Jai Ram Thakur said that this event would provide an opportunity to the participants to travel through some of the most beautiful and remotest areas of the State. He said that the race would pass through four districts of the State which also includes his constituency Seraj.
Education Minister Suresh Bhardwaj said that cycling was one of the adventure sports which was fast catching up with the younger generation. He said that Shimla has some of the most beautiful cycling tracks in the world.
Chairman HP State Cooperative Bank Khushiram Balnatha, Additional Chief Secretary Tourism Ram Subhag Singh, Secretary Sports Dinesh Malhotra, Director Information & Public Relations Anupam Kashyap , President Himalayan Adventure Sports And Tourism Promotion Association Mohit Sood and Director Hero Cycles Abhishek Munjal were present on the occasion among others.