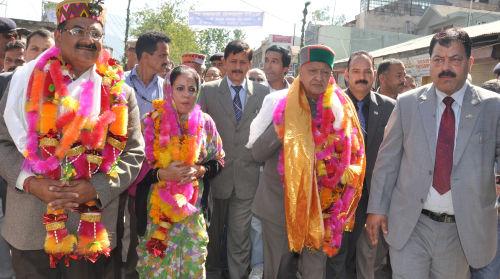 Chief Minister Virbhadra Singh today inaugurated Training Centre-cum-Multipurpose building constructed at Sarabai in district Kullu by Himachal Pradesh Power Corporation Ltd. (HPPCL) at a cost of Rs. 2.85 crore. This building has six suits and a conference hall with video conferencing facility. It would be used for training of employees. He also planted a sapling in the premises of this building on the occasion.
Chief Minister was in Kullu to attend the historic Kullu Dashehra festival, where about 262 deities were gathered to commemorate the function. It's an annual function, organised from past 400 years.
Chief Minister also inaugurated tehsil building at Bhuntar constructed at a cost of Rs. 20 lakh. It has been constructed in just seven days by Synergy Thrislington a Chandigarh based company by using pre-fabricated structure. It is weather, fire and earthquake proof besides its anti rust structure. The tehsil was announced by Chief Minister on 15th April, 2013 during the Himachal Day function.
Virbhadra Singh said that the construction of this building was planned only 14 days back and it was a matter of happiness for all that the building was inaugurated within seven days of its construction. He said that construction of tehsil building at Bhuntar has fulfilled long pending demand of the people of area.
Chief Minister also laid foundation stone of another building of Tehsil Office which would be completed in three months by Synergy Thrislington Construction Company. He also laid foundation stone of Tourist Information Centre and wayside amenities at Bhuntar to be constructed at a cost of Rs. 50 lakh. This three storeyed building would have parking facility at basement, tourist information centre, cafeteria besides other facilities.
Virbhadra Singh also inaugurated the Khampa Samudayik Bhawan at Bhuntar. He also announced Rs. six lakh for providing other facilities in the building. He said that Khampa community was an integral part of the State and the country. He said that Rs. 92 lakh had been provided to augment the drinking water supply scheme of Surad-Khokan village.
Chief Minister also inaugurated newly constructed 96 meter long double lane bridge over the Beas River at Bhoothnath in district Kullu constructed at a cost of Rs. 10 crore.
Earlier, Satya Prakash Thakur, Chairman, Kullu District Cooperative Association presented a cheque of Rs. 1.1000 lakh to the Chief Minister towards Chief Minister's Relief Fund.
Health Minister Kaul Singh Thakur, MPP and Power Minister Sujan Singh Pathania, Member of Parliament Pratibha Singh, Chief Parliamentary Secretary Sohan Lal Thakur, MLAs Maheshwar Singh, Karan Singh and Khoob Ram, Chairman, Zila Parishad Kullu Hari Chand Sharma, District Congress Committee President Budhi Singh Thakur, General Secretary Himachal Pradesh Congress Committee Sunder Singh Thakur, Spokesman, HPCC Bhuvneshwar Gaur, Vice Chairman, Nagar Parishad Kullu Muneesh Sharma, SD to Chief Minister Amit Pal Singh, Member Women Commission Sharda Katoch, Deputy Commissioner, Rakesh Kanwar, Superintendent of Police Vinod Kumar Dhawan, MD, H.P. Power Corporation Ltd. D.K. Sharma, General Manager Ramesh Chaudhary, Member Himachal Pradesh University, Executive Council Chander Shekhar and other prominent persons were present on the occasion.