Finally Sub Inspector Mangal Singh, a 'Hero of Kabul' reached his hometown in Una, Himachal Pradesh from remote eastern tip of Arunachal Pradesh during his final journey of nearly 3000 km away, resting in a coffin draped in the National Flag, in eternal sleep, undisturbed by terrorist bombs, suicide bombers and whizzing of bullets.
The Hero of Kabul, was the K9 Commander at ITBP mission at Kabul Embassy. He and his Explosive Detection Attack Dogs(EDAD) has been responsible for protecting Indian assets from Pakistan sponsored Taliban and ISIS terror attack by early warning, and he himself led the charge with his attack dogs that went for the jugular of the terrorist fidayeen, before they could blow up the embassy. As per CIA intelligence reports corroborated by Indian agencies, ITBP dogs under SI Mangal Singh has deterred more than 12 attempts of terrorists to place IEDs and two attempts of frontal attack.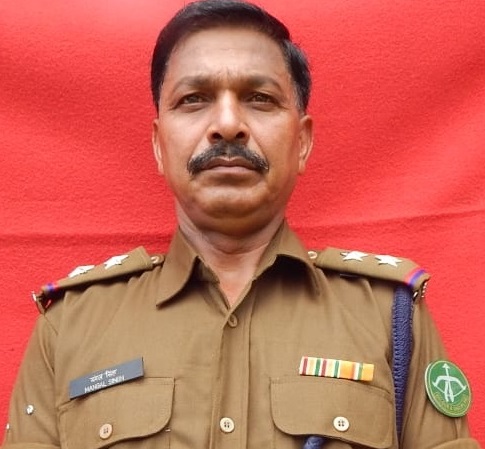 After his tenure at Afghanistan, he was posted to ATS Lohitpur, where sudden heart attack did to him what the Taliban could not. He left in 15 seconds, with a smile on his face after feeding and patting all the Horses at ATS Lohitpur on 16/7/18.
No horse ate their evening meal, in grief, that day.
Today ie 18/7/18, after road cum flight journey spanning 3000 km, he finally reached home.
He is survived by his wife Suresh Devi and two sons, one in 8th and other in 10th standard.
The body was cremated with full ceremonial honours befitting a hero at Una.
The proud ITBP lady wife stated, "Mujhe apne pati par garv hai. Mare do anmol ratan, mare dono bate, ITBP join karenge. ITBP ki jai. Bharat mata ki jai "
What their father left incomplete, his two sons would finish it. The mission continues.
Note: Sudhakar Natarajan, DIG (Vet) ITBP has contributed this tribute to brave soldier.