Nurpur: In a heart wrenching accident as many as 26 school children of Ram Singh Pathania Memorial School and and three other persons were killed after a private school bus they were travelling in rolled down into a 200-ft gorge at Malakwal on Nurpur-Chamba road near Nurpur in Kangra district on Monday evening, as per the last reports received at state headquarters.
Injured Children were shifted to nearby Nurpur Civil Hospital and critically injured children were shifted to a private hospital in Pathankot and Tanda medical college. The bus was on its way to drop children home after the school.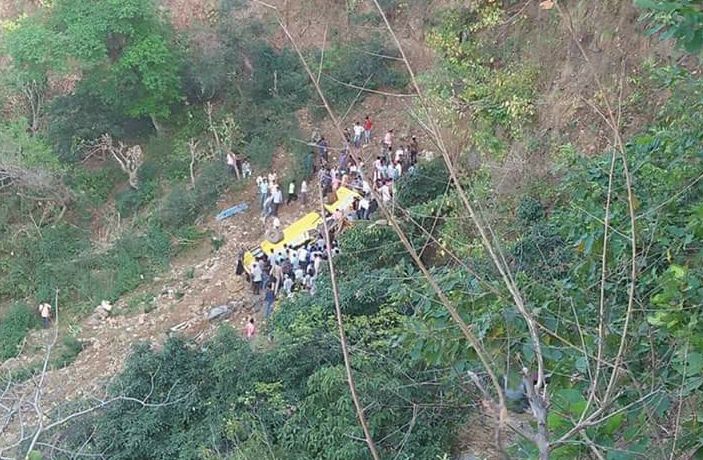 It's learned that many more bodies are still trapped under the bus. A National Disaster Response Force (NDRF) team along with police, volunteers, and doctors are at the spot to carry out the rescue operations.
The Chief Minister has ordered magisterial inquiry in to the accident to ascertain the cause of accident. However, it is speculated that Bus Driver had lost control and the bus skidded into the gorge. The poor condition of road or some technical fault in the bus might be reason for the accident.
Governor Acharya Devvrat and Chief Minister Jai Ram Thakur have expressed deep grief over the death of 26 school children and three other persons.
The Governor said it was a tragic incident in which innocent school children lost their lives. He prayed to the Almighty for peace of the souls of children who lost their lives in this accident and strength to the bereaved family members.
Jai Ram Thakur expressed his heartfelt condolences with the bereaved family members and prayed for the peace of the departed souls. He wished speedy recovery of the children who have sustained injuries and directed the Dr. RPGMC Tanda hospital administration to provide them best medical treatment. He said the state government would provide all possible assistance to the family members of deceased children.
Food and Civil Supplies Minister Kishan Kapoor along-with MLA Rakesh Pathania and Deputy Commissioner Kangra Sandeep Kumar reached the spot to supervise rescue and relief operation.