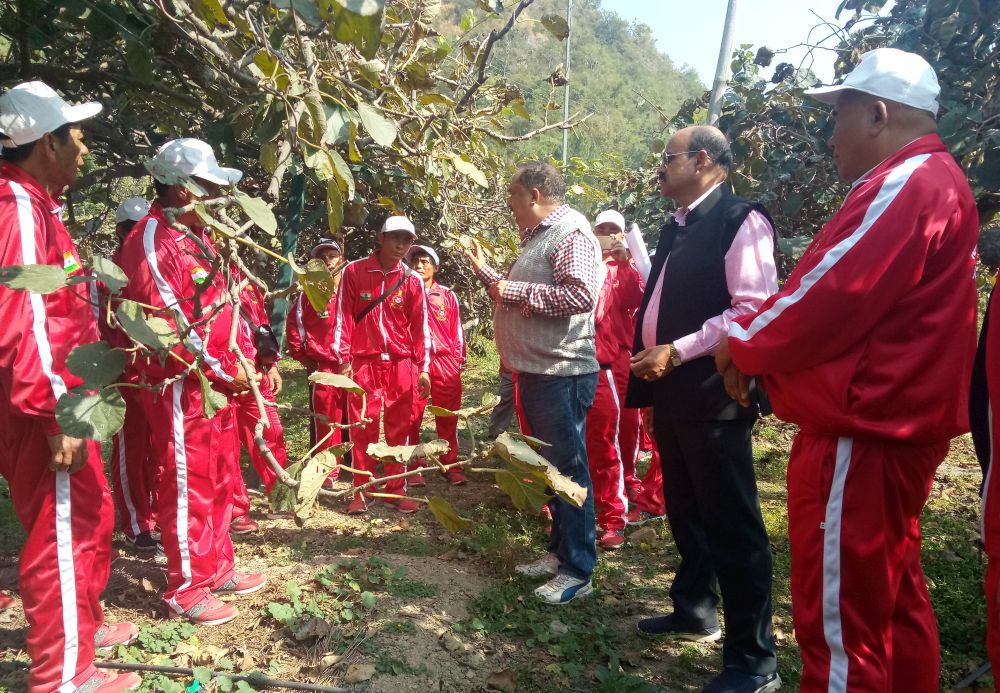 • Delegation of 22 farmers sponsored by Assam Rifles under National Integration tour
Nauni/Mashobra: To understand modern nuances and technology of hill farming, a delegation of 22 farmers from Nagaland visited Dr YS Parmar University of Horticulture and Forestry (UHF), Nauni.
The group, which consists of two farmers each from all the 11 districts of Nagaland, were sponsored by Assam Rifles under their National Integration tour.
The Commandant of 44 Assam Rifles under the aegis of HQ IGAR (N) had flagged off the tour to Himachal on November 2. The delegation is being led by Major Gulshan Kumar and his administration staff from Assam Rifles.
He informed that the objective of the tour is to integrate the distinct cultural and social ethos of the nation and to familiarize farmers from remote areas of Northeast to agricultural advancements in Himachal Pradesh, which has similar terrain and climatic conditions to Himachal. He expressed hope that the farmers will implement the latest horticulture and hill farming techniques learnt at the university, to increase yield and income back home.
The all-male delegation has farmers between the age group of 26-50 years. The Directorate of Extension Education at UHF hosted the farmers and educated them about the developments and scope in the field. The farmers were also taken on a field visit to the Kiwi plantation block and other farms of the university.
On the day two, the group visited the Regional Horticulture Research and Training Station Mashobra where the scientists introduced the farmers about the right techniques and methodology for apple farming for attaining better yield. They were also apprised about the diseases and pests associated with the crop and how to effectively deal with them.