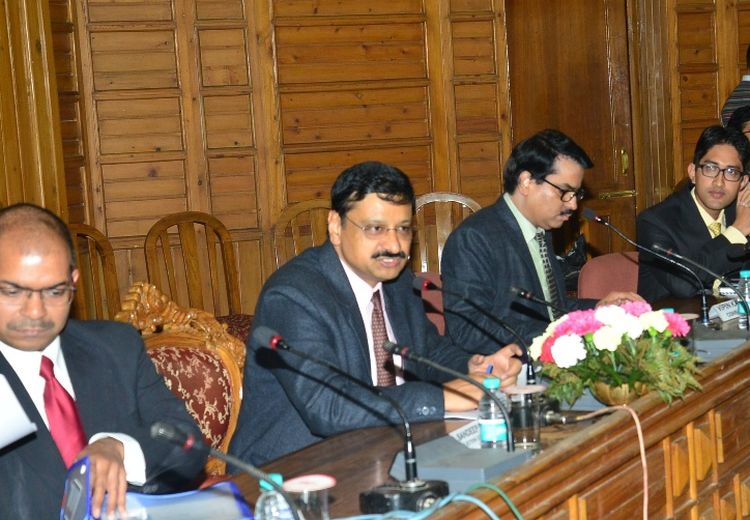 Shimla: To ensure free, fair and peaceful upcoming Assembly Elections in Himachal Pradesh, Sandeep Saxena, Deputy Election Commissioner of India today directed all District Returning Officers (Deputy Commissioners) of the State to prepare a comprehensive booth level planning.
Saxena, in the meeting of Deputy Commissioners and Superintendents of Police on preparedness of ensuing elections in the State here at Peteroff Shimla, took stock of poll preparations through district-wise presentations of Deputy Commissioners and Superintendents of Police.
He stressed upon the dissemination of awareness about Voter Verifiable Paper Audit Trail (VVPAT) to every voter and also to motivate them to come out for casting their vote.
Saxena said the awareness should reach to every habitation, every section and even every household and said that Booth Level Officers (BLOs) should ensure their visit to every household along with form-6 and also to collect mobile number of adult of the house. He also stressed for optimum use of social media to educate the people about VVPAT and voting right.
Deputy Election Commissioner also stressed that vulnerable and critical polling stations of the State should be well identified and manned as per the norms of ECI. He also directed to ensure 100 percent licensed weapons be deposited with respective police stations well in time.
He said postal ballots should be necessarily be provided to the force personnel and general staff on poll duty. He also asked Superintendents of Police to prepare a proper plan on inter-state and inter-district borders to maintain proper law and order situation. He further said that for patrolling in vulnerable places, every mobile van should have GPS attachment. He also gave valuable suggestions on the presentations.