Chitpurni: Himachal Pradesh is scheduled to go into poll in next two months, and senior congress leader and state Chief Minister Virbhadra Singh ensuring no stone unturned to woo electorates to ensure party victory in the state.
The Chief Minister, amidst the bitter wrangle for supremacy of party unit just ahead of the election, doling out goodies in most part of the state, and today itself he dedicated projects of around Rs 56 crore in Chitpurni assembly constituency in Una district. Chitpurni assembly constituency is being represented by Virbhadra Singh's close associate Kuldeep Kumar.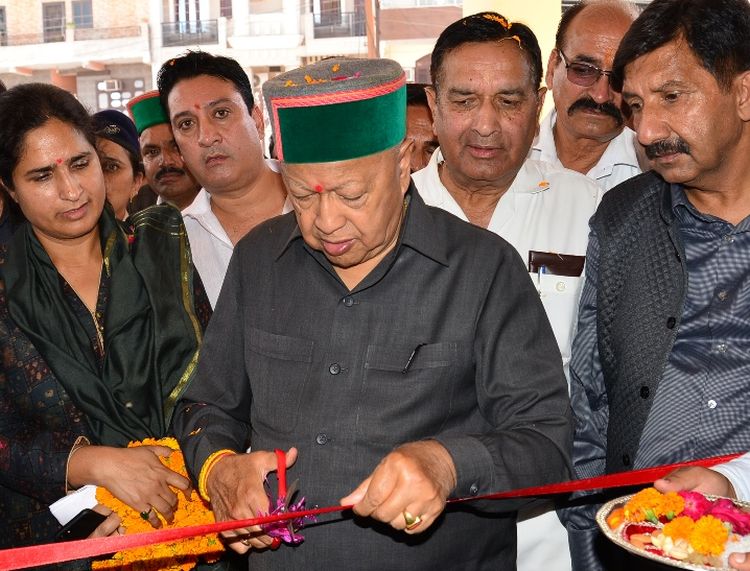 Virbhadra Singh inaugurated the interpretation centre, tourism amenities complex and integrated car parking at Chintpurni. The Asian Development Bank funded project was undertaken by Tourism Department.
He inaugurated the science block of Government Senior Secondary School, Thathal completed with an outlay of Rs 1.27 crore and building of CDPO office at Amb completed with an outlay of Rs 1.50 crore.
The Chief Minister laid foundation stone of augmentation of Lift Water Supply Scheme (LWSS), Chintpurni to cost Rs.84 lakh. This will benefit a population of around 6000 of seven villages of the region besides facilitating the pilgrims visiting Mata Chintpurni Temple.