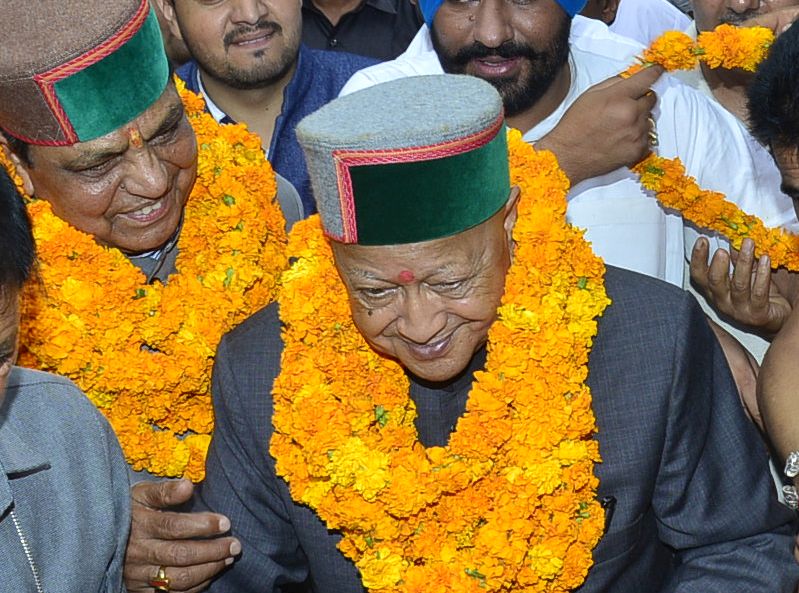 Facing criticism for failing to control law and order situation in the once considered peaceful state, Chief Minister Virbhadra Singh has blamed the Opposition BJP for playing politics over the death of minor girl, and also responsible for unrest in Tissa, in district Chamba.
The Chief Minister, while addressing a public meeting at Solan, today, cautioned to take stringent action against involved in the loot, arson and damaging the public property. Singh said
"It was wrong to give a political colour to the mishappenings for self-interest and the BJP leaders instead sympathizing the death of Guddia, were flaring up the matter to be in news and gain cheap publicity."
Referring to the clashes in Tissa, the Chief Minister said that the situation was well under control and a peace march was organized today by the eminent people and representatives of both the communities, besides a pledge was taken to maintain peace and harmony.
The Chief Minster said that the BJP created lots of hullabaloo on construction of Ram temple at Ayodhaya and even collected funds for the same but as of today, the temple had not come up. He questioned that was it a mere a political propaganda by the BJP to woo voters.
Meanwhile, Opposition BJP has blamed Chief Minister for trying to conceal his government failure by accusing BJP. Rajiv Bindal, senior BJP leader, claimed that anti-social elements are roaming free in the society and the Congress led state government has miserably failed to provide safe and peaceful environment in the state.
Leader of Opposition and former Chief Minister CM Prem Kumar Dhumal has also raised his concern over the failing law and order in the state and alleged that antisocial elements and mafia were running a parallel government in the state as Chief Minister Virbhadra Singh has lost his grip on the administration, resulting in complete collapse of law and order.