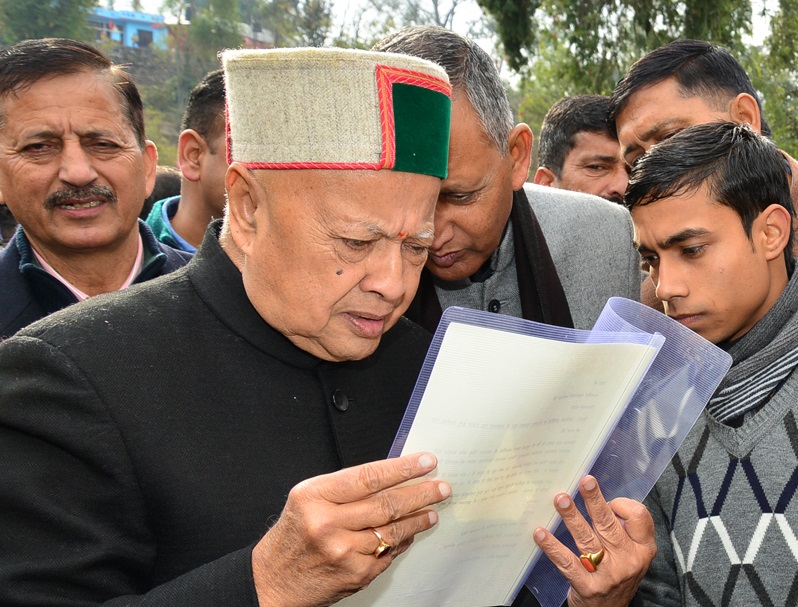 Chief Minister Virbhadra Singh today again dismisses the demand of creating new district in the state. Singh, while addressing a public meeting at Darang, said the state has sufficient number of districts as such and there was no need of creating new districts.
Veteran Congress leader claimed the crating new district would be a sheer wastage of public money and would only put unnecessary pressure on the state exchequer. He said that funds should be utilized on development works like education, health, road, transport, electricity, water supply and other sectors.
The Chief Minister also blamed the BJP for dividing Kangra and other districts during its regime without any prudence. He said
"such steps could have been damaging to the State as these were not based on the administrative needs but on political avarice"
Virbhadra Singh announced Sub Divisional Magistrate office for Sulah Constituency to be at set up Dheera. He also upgraded the Health Sub Centre at Darang to Primary Health Centre and sanctioned IPH Sub-Division at Sulah and a veterinary Dispensary at Bhattu.
Earlier, Virbhadra Singh dedicated a bridge over Dumela Khad on link road Bhadal Devi to Saloh at Bhadal Devi completed at a cost of Rs.138 lakhs, Science Block in the premises of Rana Man Chand Memorial GSSS, Sulah with a cost of Rs.82.07 lakhs and laid foundation stones of Science Block of Govt. Degree College, Naura at Rs.553.05 lakhs, C.H.C. building at Dheera proposed to be built at Rs.416.19 lakhs, Span Bridge over Neugal Khad on Sulah Jhajjar Parour Road to be built at a cost of Rs.452.24 lakhs and Span Bridge over Tahal Khad on Panaper Har to Kholi at a cost of Rs.122.13 lakhs. He, also, inaugurated 33KV Sub Station at Darang constructed at a cost of Rs.301lakhs, span RCC T-beam Bridge over Tahal Khad on Gallu Ghanetta Baba Kirpa Ree Gidda Road at Dhoran accomplished at Rs.46.89 lakhs.