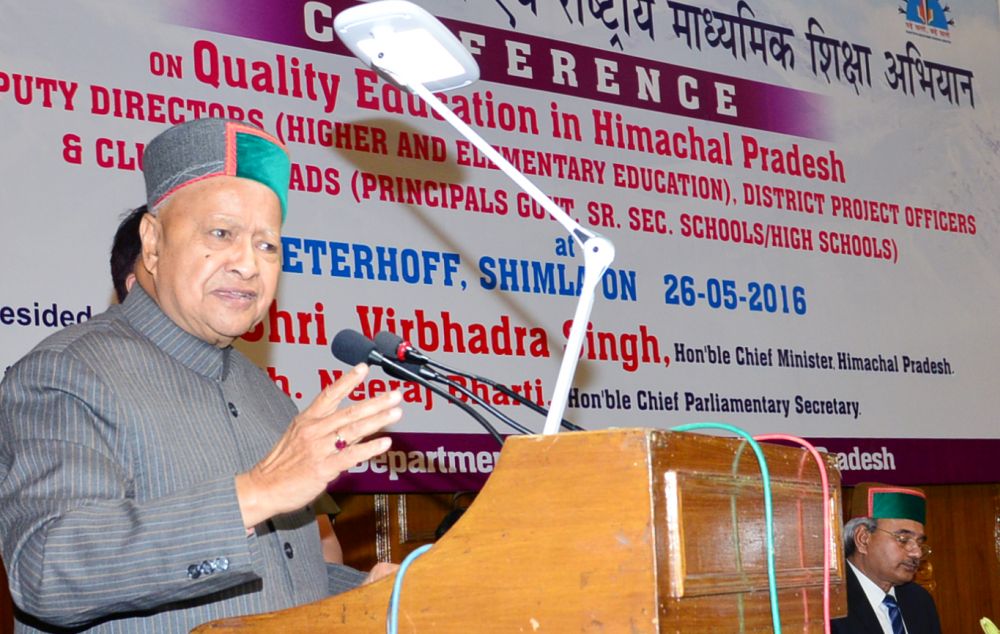 Shimla: Worrying for degrading results in Government schools and to bring discipline to ensure quality education, the Himachal Pradesh Government has decided to install bio-metric machines in its schools.
The Chief Minister, while speaking at the Conference on Quality Education in Himachal Pradesh for Deputy Directors of both Higher and Elementary Education Departments, District Project Officers and cluster heads including Principals of High Schools, said that in the first phase as many as 136 schools at sub-tehsil level will have bio-metric machines by July to keep an eye on punctuality and check absenteeism, and more such machines would be installed in schools in phased manner, he further added.
Virbhadra Singh also recommended to start monthly or quarterly tests for students, especially in primary schools to assess the performance of students. He said
"We need to evaluate the performance of every child and pay more attention to the weaker ones, besides evaluating the performance of teachers"
He blamed grading system for weakening the basic education set up.
The Chief Minister emphasized to strengthen existing schools by providing best infrastructural facilities and fill up the vacancies. He said that enough educational institutions had been opened in the State and now all focus should be in improving its infrastructure. He also pitched for strengthening primary education system.
To give better choice to students in pursuing their career, the Government considering opening specialized colleges on particular subjects such as college of Fine Arts, Music, Sciences etc.
Additional Chief Secretary, PC Dhiman said that the State Government had taken several steps for strengthening the education set up and was also providing various facilities to the students.
Director Higher Education, Dinkar Burathoki revealed that during the last three years 1197 new posts of JBT were filled by direct recruitment and 1533 TGT and 847 C&V were filled.
Chairman, HP State Education Board, Balbir Tegta, Secretary Education, Rakesh Sharma, Manmohan Sharma, Director Primary Education, Project Director, SSA and RMSA Ghanshyam Chand were also present on the occasion amongst others.