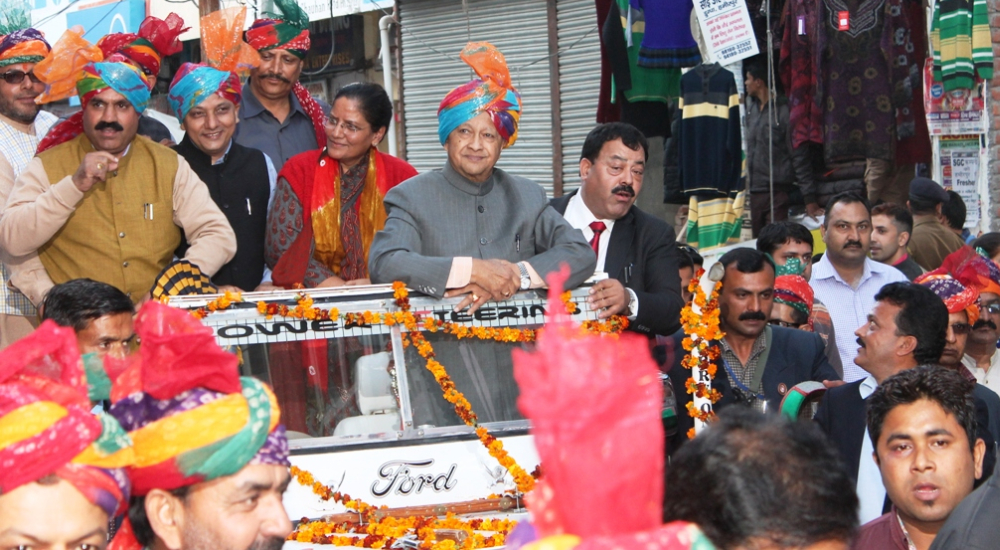 Himachal Pradesh Chief Minister Virbhadra Singh today inaugurated the Hamir Utsav at Hamirpur by participating in Shobha Yatra (Jaleb) from Gandhi Chowk to Shiva temple in the town.
The Chief Minister said that the festival is celebrated to commemorate the formation of Hamirpur as a separate district in September 1972 and since last 42 years there was no look back for the district in the field of development. The festival showcases rich cultural heritage of the district besides having historical importance. He said that Himachal Pradesh was known for its diverse cultural heritage and such festivals play an important role in promoting brotherhood and love amongst the fellow-beings.
Later, the Chief Minister inaugurated the cultural-nite of Hamir Utsav and also released the souvenir on the occasion. He stressed for the preservation of the language, culture and traditional heritage of the State and wished the people of Hamirpur a joyous festival.
He was welcomed and honoured by Deputy Commissioner, Hamirpur Rohan Thakur on the occasion.
Chief Parliamentary Secretary, Inder Dutt Lakhanpal, Vice Chairman, HP State Disaster Management Authority, Rajinder Rana, Vice-Chairman, former MLA Anita Verma, Chairman, HP Education Board, Balbir Tegta, SP Hamirpur, Ajay Bodh also accompanied the Chief Minister on the occasion amongst others.