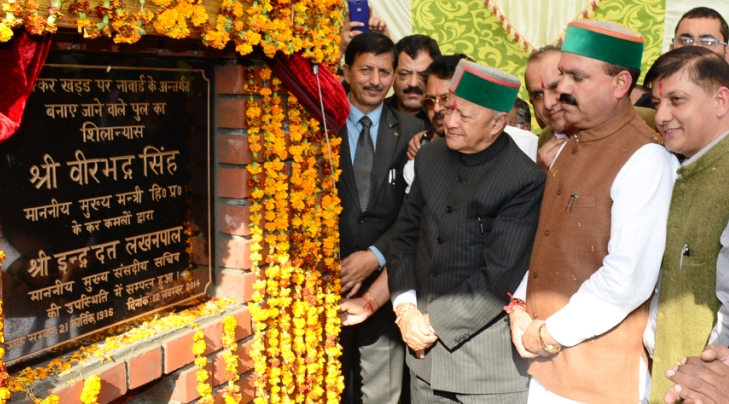 Chief Minister Virbhadra Singh today announced up-gradation of Bijhri Sub-Tehsil to Tehsil and also declared Bhota as Sub-Tehsil in Hamirpur district.
In his address at Bhijri, CM said the people of Bijhri had always been dear to him and Government was committed for their overall welfare and development of area. He reminded that Bijhri was given the sub-tehsil status by him 15 years back and the opposition had a Chief Minister from Hamirpur but the interest of the people were ignored completely.
He said that there was adequate budgetary provision for the bridge over Shukkar rivulet of which he laid the foundation today and directed the authorities to start the work on the bridge soon and get it completed within a stipulated time period
Earlier, he dedicated and laid foundation stones of the projects worth rupees 14 crore in the district. He laid the foundation stone of the boys hostel of college of Horticulture and Forestry at Neri to be constructed at a cost of Rs 3.65 crore besides laying foundation stone of Library-cum-Information Technology Centre to come up with Rs.2.54 crore.
The Chief Minister also inaugurated the first phase of laboratory Block of the college which has been constructed at a cost of Rs 1.53 crore. He also inaugurated Rs 87.20 lakh Book Distribution Centre and Teachers Holiday Home near Hathli rivulet and also performed foundation stone laying ceremony of Girder Bridge to be constructed over Shukkar Rivulet at a cost of Rs. 3.74 crore.
He agreed in principle for upgrading the Primary Health Centres in the areas as demanded. He announced up-gradation of half a dozen middle schools to High Schools which includes Middle Schools Berri, Salauni, Sathwin, Chakmoh, Phagoti, Balh bihal in Tehsil Barsar. He also announced road from Jalari to Deotsidh measuring 51 Kms.
Chief Parliamentary Secretary Inder Dutt Lakhanpal Vice Chairman, HP State Disaster Management Authority Rajinder Rana, Vice Chairman HP State Forest Corporation, Kewal Singh Pathania, Chairman, HP Education Board, Balbir Tegta, SP Hamirpur Ajay Bodh also accompanied the Chief Minister on the occasion amongst others.
Chief Minister later reached Palampur in the evening where he was given rousing welcome by Brij Bihari Lal Butail, Speaker, HP Vidhan Sabha and other senior leaders.