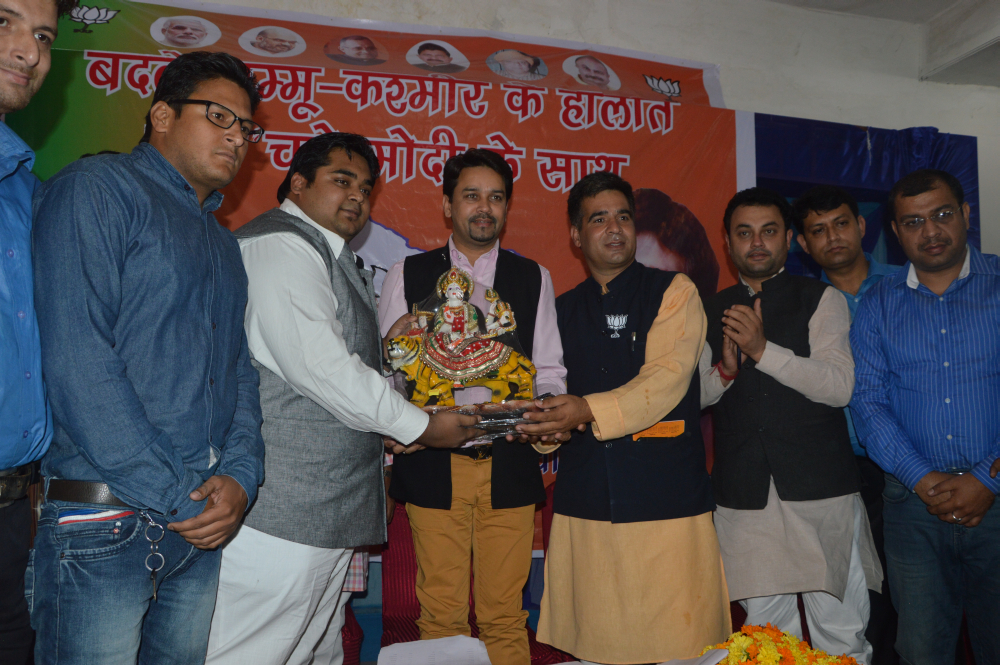 Jammu: The national president of BJYM and Member of Parliament Anurag Thakur asked youth of Jammu and Kashmir to work hard to ensure party win in the forthcoming assembly election.
Anurag Thakur, who was in Jammu to oversee the preparation for forthcoming state assembly election, said that the party is in good shape and thus have a bright chance to form BJP led government in the state.
He said that after spectacular victory in the parliamentary and latest assemblies' election, it's now the time to get mandate in the state of Jammu & Kashmir.
Thakur also detailed out the performance of Narinder Modi led Union government. He said that in his hundred days of rule PM has given glimpse of coming time.
Anurag Thakur said that in the hour of crises of devastating floods in Jammu and Kashmir, Union Government initiated rescue operation and saved lakhs of flood affected people in the state. He claimed the ruling National Conference (NC), Congress, People's Democratic Party (PDP) and separatists have failed to extend the helping hands to the people.
He targeted the NC-Congress's led state government and termed its tenure as dissapointing and full of corruption. He also accused successive state governments for failing to protect the rights and due share of People of Jammu, Kashmir and Ladakh.
Validating his comments with figures, BJYM National president asserted that more than 1.5 million refugees in J&K, including from West Pakistan, POJK and Kashmir Valley as well as border migrants of 1965 and 1971 in J&K, are living a miserable and neglected life.
He further claimed that many refugees from West Pakistan don't even have citizenship rights even after 67 years of their stay in various parts of Jammu province. Thakur claimed that Gujjars, Bakerwal, Phari speaking Muslims, Shias and the other nationalist Muslims were also denied off justice and constantly being harassed since independence.
Shiv Bushan Singh national vice president, Sachin Baseen national secretary, Narinder Atri and Parimoksh Seth, BJYM State President Ravinder Raina, Inderjeet Sambyal and thousands of BJYM cadre attended the meeting.