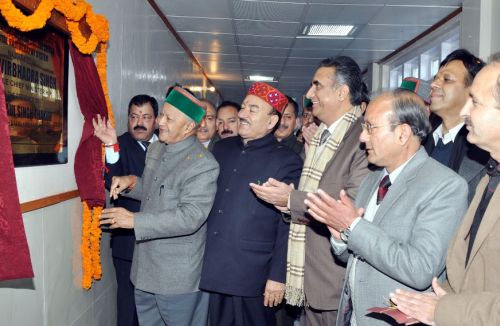 Shimla: Himachal Pradesh Chief Minister Virbhadra Singh today inaugurated Rs. 1.66 crore Digital Radiography System (DRS) at Indira Gandhi Medical College (IGMC) Shimla. He said that this machine was a new era in radiography which not only save patients time but will be highly useful in diagnostic and research work.
Virbhadra Singh said that this machine has ability to digital transfer images to different computers where X-ray can be visualized immediately. He said that the X-ray of whole body can be done without manually shifting the patient or cassette and has 60 per cent less radiation as compare to traditional photographic film.
Chief Minister said that last year was remarkable for the health sector in the State. He said that construction of new OPD Block at IGMC Shimla was started at a cost of Rs. 160 crore. He said that a new super specialty hospital was near completion in DRPGMC Tanda which would soon be inaugurated and it would be a big step in the health sector. He said that IGMC has emerged as a Centre of Excellence whereas a complete township has been emerged in DRPGMC Tanda which has adequate space for further expansion.
Virbhadra Singh said that IGMC Shimla has paucity of space and Government has decided to shift the Dental and Nursing Colleges near Ghanhatti which would help in decongestion. He said that this second campus of IGMC would have 100 bedded hospital and residential facilities for Doctors and staff.
Chief Minister said that ESI Medical College and Hospital was being constructing at Nerchowk in Mandi district which would cater the medical need of the people of the area. He said that Himachal has three zones and only Mandi was left with specialized medical facilities. He said that Mandi hospital was linked with ESI Medical College till its own hospital was completed and made functional.
Virbhadra Singh said that State Government has accorded top priority to the health sector and a full-fledged Mother and Child Care Hospital was developed at Kamla Nehru Hospital Shimla. He said that all medical, surgical and gynecological specialty facilities would be provided at KNH and a new block was being constructed. He said that a new Hospital Block of Din Dayal Upadhyay (DDU) was also being constructed. He said that emphasis was being made to provide best medical facilities in rural areas.
Chief Minister expressed his gratitude to Government of India and Union Health Minister Shri Ghulam Nabi Azad for providing liberal aid for the development and expansion of health facilities in the State. He said that GoI had included IGMC Shimla under Pradhan Mantri Swasthya Sewa Yojna (PMSSY) and also approved a new Operation Theater (OT) complex.
Health and Family Welfare Minister Kaul Singh Thakur said that Himachal Pradesh was awarded as a Best State Award in Health Sector among big States recently. He congratulated medics and para-medics for this award and hoped that they would continue to serve the patients with dedication and devotion. He said that Government has provided all assistance for betterment of health services in the State. He said that the State Government had increased 200 posts of Doctors of which 160 would be filled this year while 40 next year. He said that various posts of para-medical staff was also being filled.
Chief Parliament Secretary Nand Lal, Deputy Mayor MC Shimla Tikender Panwar, Principal Secretary Tarun Shridhar, Deputy Commissioner Shimla Dinesh Malhotra, Special Secretary Health Amithab Awasthi, Principal IGMC Dr. S.S. Kaushal, Director Medical Education Dr. Jaishri, Principal Dental College Dr. R.P. Luthra, Head of Departments and senior officers were present on the occasion.