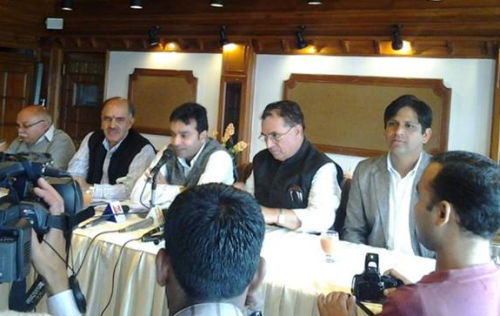 Shimla: Speaking first time to press after the FIR in alleged wrongdoing in the land purchase made in Dharamsala, Arun Dhumal, son of former Chief Minister Prem Kumar Dhumal, refuted allegations and termed FIR politically motivated.
He said that he was compelled to hold the first press conference of his life and claimed that all allegations appeared in the various medium of press were incorrect. He claimed not to forge any documents to buy land.
To authenticate his claim, Thakur distributed documentary evidence of the land deal, including the sale deed and an affidavit by the seller Premu that he had not been rendered landless.
The affidavit also mentions that the stipulated period of 15 years during which he could not sell the land had also got over. Premu in the affidavit has mentioned that the land was given to him on December 7, 1992.
He raised questions on the intention of the Vigilance Bureau and state Govt and asked Chief Minister to clarify whether single case of land deal between two individuals is being probed. He also raised objection over vigilance probe as this was a case of revenue department.
Arun Thakur also accused the state government of using the vigilance bureau to settle political scores. He claimed that they have the papers to substantiate their stance.