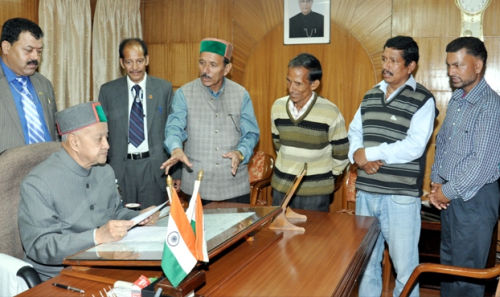 The people of Sugha and Samej villages of Sarpara 15/20 Gram Panchayat of Rampur Bushar in Shimla district have urged the Chief Minister to stop work on Samej hydropower project.
A delegation of both the villages met the Chief Minister at Shimla and apprised him that this project being executed in private sector by Ranga Raju Company was given No Objection Certificate (NOC) for 5 MW hydro power project but the company was constructing a 14 MW project without obtaining NOC from the Panchayat.
The delegation informed the Chief Minister that the company was also constructing a tunnel over both the villages which could cause a threat to the hundreds of houses. They requested Chief Minister for not giving the permission to the company to enhance the project capacity and also to stop the work of tunnel keeping in view the threat to the hundreds of people.
Virbhadra Singh assured the delegation that appropriate action would be taken on their demand.