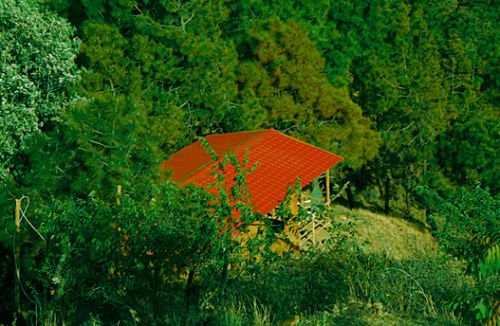 With mercury touching 45 degrees plus in the plains, it seems sun might also be looking for some shade. But the question remains where to find it and one name that instantly comes to mind is Shimla and its' surrounding.
Today I would like to take my readers to Shoghi, a tiny paradise tucked away on NH 22, thirteen kilometres short of Shimla. Shoghi is an ideal halt for tourists as small hills and unexplored enchanting surrounding has lot more to offer to nature lovers. Aamod an Ecotourism resort at Shoghi hills can make your trip to hill station more rejuvenating and memorable.
Aamod resort set in pristine virgin forest takes one away from the hustle and bustle of city life. Aamod offers perfect blends of nature and serene beauty of the wildlife, with enchanting log huts to rest in.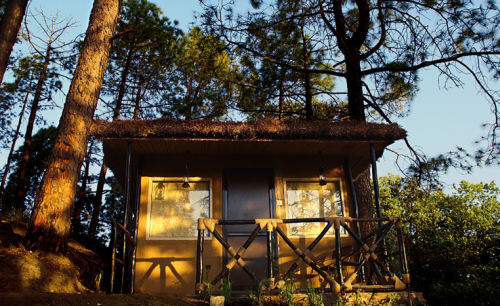 Aamod which means 'joy' in Sanskrit lives up to its name. The resort is primarily spread across mountain slope and mountain tops. Accommodation is in cute little cottages, both single and double with enough privacy around. While travelling in groups, you also have the option of staying in cottage clusters.
This unique concept in accommodation in Shimla is targeted at those who are bored of concrete jungles in cities and love to stay closer to nature without compromising on quality and comforts. Pioneering a tradition in hospitality and setting a premium on discreet efficiency and personalised services, these cottages near Shimla are set amidst dense forest of oak and pine. Interior furnishings exude a warm and jungle ambience – simple yet stylish and elegant.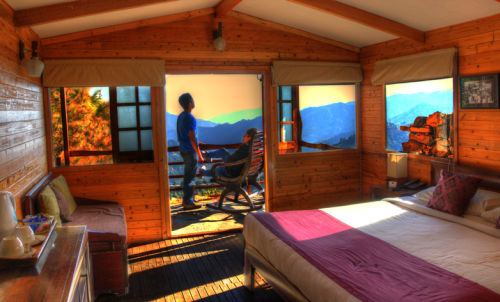 Accommodation at Aamod Shoghi
Deluxe Pine Cottage
Set amid the stunning beauty of oak and pine forest scenery, our accommodation in Shimla includes 6 Deluxe Pine Cottages (approximately 300 sq ft each, including a large private sit-out and en-suite) which are designed with a pleasing ambience to redefine the art of fine living. Comfort and Luxury come together in perfect balance with environment. The cottages feature Sheesham wood furniture, silk furnishings & cotton linen to create a warm ambience. The gracious elegance of the decor combined with the personalized service makes for a memorable experience. The Sofa-cum bed in each room converts into a large (4 feet width) size bed if required.
Deluxe Mud Finished Cottage
The 11 pre-fabricated Deluxe Mud finished cottages in Shimla (approximately 280-350 sq ft each, including a large private sit-out and en-suite), have a mud finished exterior combined with a simple yet elegant interior. Elegant chatai ceiling with bedside hanging lights complete the look. Besides its layout, the aesthetically designed Sheesham wood furniture provides luxury and comfort. The Sofa-cum bed in each cottage converts into a single bed (in 8 rooms) and double bed (in 6 rooms), if required.
Mud Finished Family Cottages
Overlooking the forest & the resort, are 2 pre-fabricated Mud finished Family cottages (approximately 550 sq ft each, including 2 large private sit-outs each and en-suites) each a combination of two bedrooms with an interconnecting door in between, where each room has separate en-suite facilities and a large private sit-out, on a wooden deck surrounded by trees, where you can enjoy a private moment with nature. One bedroom has a king size double bed and the other has twin beds. Family cottage in Shimla can accommodate 4 adults and do not currently have provision of extra beds. Once inside, sink into a comfortable bed or choose to relax at a cozy sitting area.
Mud Finished Deluxe Family Suite
Situated close to the top of the hill is the Deluxe Family suite (approximately 900 sq ft, including a 150 sq ft private sit-out deck and en-suites) comprising of two large bedrooms with separate en-suite facilities and a living room in between. Both the bedrooms have King size double bed and double sofa bed as well. This Shimla cottage has large private sit outs on both the sides where you can relax and enjoy your private moments.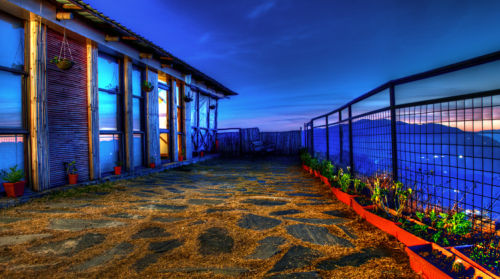 With the unique way to spend holidays in huts and equipped with all modern amenities, Aamod adds exploration and fun to its visitors. Aamod offers best trek to explore surrounding Shimla. It also has five opportunities of Rock-climbing and Rappelling, Nature Trails with simple joys of walk in the woods with families, Camping, Orienteering, Mountain Biking, River Rafting in Sutlej River and many more simple but rejuvenating games.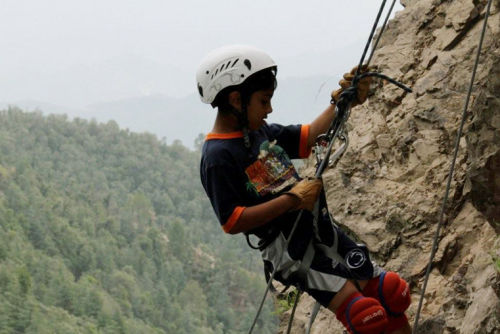 On the top of this, Aamod also offers unique Spa at its resort, which it claims to be the finest at least in Shimla and its surroundings.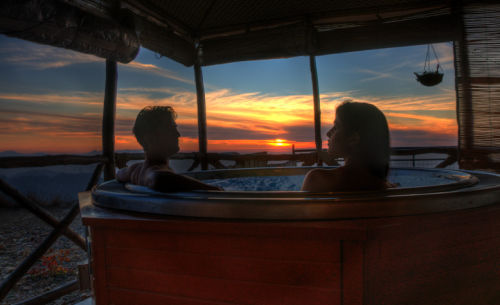 Aamod spa is all about a holistic and earthy blend of relaxation, detoxifying, revitalizing and beautifying therapies and treatments. From Ayurvedic to Aromatherapy, from mud wraps to seaweed scrub, the massages available at Aamod transform you instantly to a world called bliss. Aamod also has facilities for Yoga and meditation.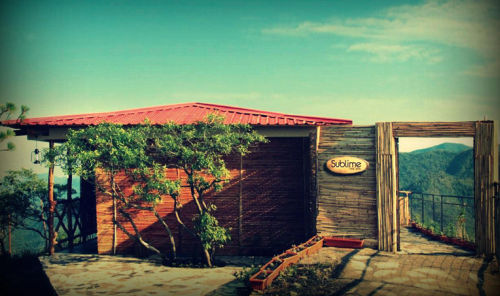 To make guests holidays more memorable, Aamod's multi-cuisine restaurant and bar that's called "The Colonial" serve from Spaghetti Bolognaise to Subz Biriyani to pamper the taste buds even in the remote mountains. Though the resort's separate multi-cuisine restaurant with alfresco dining is the best among restaurants in Shimla. Dine under the star sprinkled sky or on the edge of the mountain. The Colonial today has become one of the best restaurants in Shimla! Aamod also offers bakery products as well.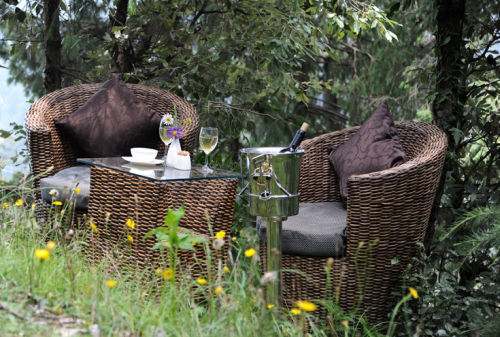 Aamod really lives up with its motto "Chotti Chotti Khushian" with its unique offering and unmatched services.