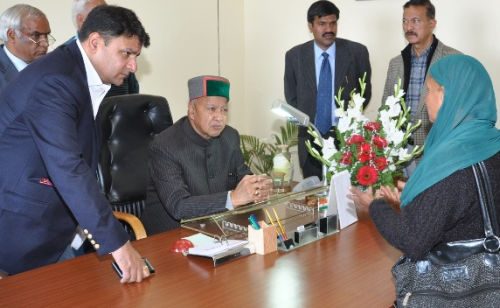 Chief Minister Virbhadra Singh announced that the foundation stone of the Himachal Pradesh Central University will be laid soon and all the formalities are being completed in this regard. He said it while interacting with the media persons at the Mini Secretariat in Dharamshala.
Virbhadra Singh said that a tunnel would be constructed to link Chamba district with Kangra near Chamunda, which would reduce the geographical distance by about 200 kilometers. When asked regarding the mono rail project for Dharamshala, he said that survey would be conducted first at Shimla and later at Dharamshala.
Expressing concern over the suspension of air flights to all the three airports in the State i.e. Dharamshala, Shimla and Bhuntar (Kullu), he said that the matter had already been taken up with the Central Aviation Ministry and would be resolved soon. Successful trials of big aircraft for the Dharamshala Airport were held recently by the Spice Jet Airways and regular flights would start at the earliest. Replying to another question about implementation of Right to Education in the private aided and non-aided schools, he said that defaulters would be dealt sternly and appropriate action would be taken.
Virbhadra Singh denied any out-of-court settlement with the Pantjali Yogpeeth on the land issue near Sadhupul in Solan district. He said that all news published in various sections of the press on this issue were baseless and did not hold any truth. Replying to another question, he said that 1058 encroachment cases were reported in the Macklodganj area of Dharamshala and most of them had been settled while the remaining cases pertaining to the Tibetan Community would be looked into. When asked about the revival of the Administrative Tribunal, Chief Minister said that no such demand had been raised by any N.G.O. in the State.
On the phone tapping issue, he categorically made clear that the matter was being investigated by the Vigilance and if necessary, the Special Investigation Team (SIT) could be constituted by the Vigilance wing. Replying to a question about the HPCA hotel 'The Pavilion' at Dharmashala, he said that the matter was being enquired and further action would be taken only after receiving intense inquiry report.