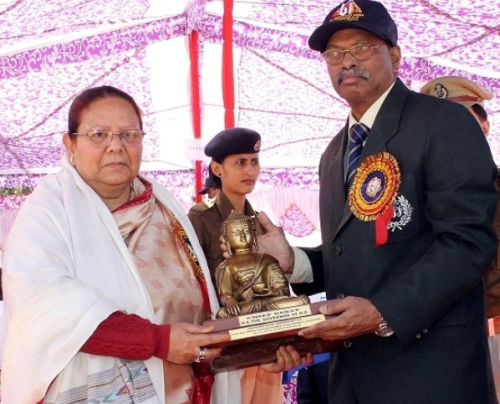 Governor Urmila Singh inaugurated the 61st All India Police Games Competition at Dharamshala in District Kangra. About 1500 players from 24 States, Two Union Territories and Central Police Force are participating in the competition.
Speaking on the occasion, Urmila Singh said that sports teach us the art of balancing our thoughts and feelings besides developing the personality of players which not only help them to be better human beings but also ensures better performance in all the spheres of life, especially at work. These qualities are added advantages for police officials as they deal with public and work under pressurizing situations, she added.
Stressing upon the value of sports, Governor said that sports help us to grow in life both physically as well as mentally. She said that youth should participate more in sports activities as they inculcate qualities like confidence, team spirit, friendliness besides infusing zeal and energy and making them tough and strong. She said that sports activities should be encouraged at all levels and youngsters must be motivated to take part in them.
Lauding the efforts of the organisers, Governor said that the event would not only break the monotonous routine of police personnel but would also provide wholesome entertainment to them and an opportunity to interact with their counterparts of other states, providing them more exposure. Governor also released a souvenir on the occasion.
B. Kamal Kumar, Director General of Police welcomed the Governor on the occasion and detailed about the sports event. Rakesh Aggarwal, I.G. North Zone proposed vote of thanks.
B.R. Verma, Divisional Commissioner, C. Paulrasu, Deputy Commissioner, senior officers of Police department and prominent persons of the town were also present at the occasion.