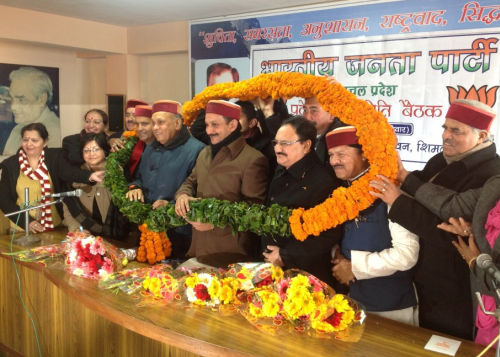 State BJP finally implemented decision to split bigger districts like Kangra, Shimla and Mandi into organisational districts for better management.
Leader of opposition Prem Kumar Dhumal, national general secretary JP Nadda, national secretary Shyam Jaju and state BJP chief Satpal Satti attended the meeting along with hundreds of state office-bearers at Shimla party office.
Addressing a press conference, Satti said Kangra, the biggest district, would now have four organisational districts, Palampur, Nurpur, Kangra and Dehra. He said Mandi would have the organisational districts of Mandi and Sundernagar and Shimla was split into Shimla and Mahasu.
He claimed that a consensus had been reached on the issue before the meeting even though many leaders from the three districts had objections to the move. Senior BJP leader Shanta Kumar and his camp had objected the move and showed serious reservations against it, but state party leaders go ahead with it.
In his address Satti criticized Congress regime for changing the names of schemes started during the BJP regime. He announced that Congress should prepare for the same fate in near future. He claimed that in last two months Govt has failed to raise the issues of common public and doing a dirty politics with its distracters. He accused the Congress of trying to create an atmosphere of fear after assuming power. He claimed that employees were virtually living in fear of suspension, termination or transfer.
He said the BJP would oppose any move by the Congress regime to shift offices. He alleged that the Congress was acting with political vendetta and harassing BJP workers.