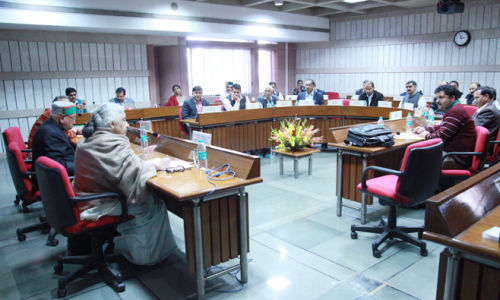 New Delhi: All India Congress Committee General Secretary Oscar Fernandes today addressed the newly elected legislators of 12th Himachal Pradesh legislative assembly on the second day of Orientation Seminar being organised at Lok Sabha Secretariat, New Delhi.
He deliberated on various parliamentary rules and techniques for raising questions of public welfare in the assembly.
Brij Behari Lal Butail, Speaker, H.P. Vidhan Sabha said that legislators must understand the importance of time as government spends crore of rupees on parliamentary proceedings and they should utilise this time for raising developmental and welfare issues of their constituencies. He also advised them to take maximum benefit of this orientation programme and utilise this experience in the ensuing budget session.
S.S. Ahluwalia, former Member of Parliament detailed about legislative procedure of parliament. Chandresh Kumari, Union Minister for Culture stressed that legislators should make maximum use of various platforms to resolve various issues pertaining to their areas.