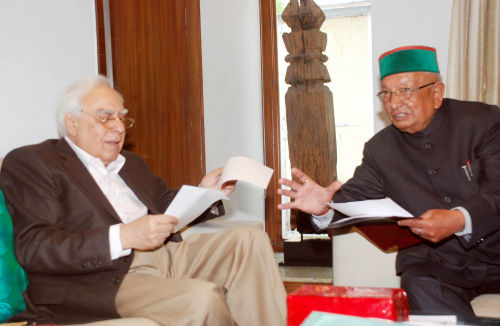 New Delhi: Himachal Pradesh Vidhan Sabha speaker Brij Behari Lal Butail met Kapil Sibal, Union Minister for Communication and Information Technology at New Delhi today. After detailed discussions, Brij Behari Lal Butail handed over a copy of Rs. 7.75 crore e-Vidhan Project for funding.
Butail said that e-vidhan project would cost Rs. 7.75 Crore and on completion will be a green governance tool for Himachal Pradesh Vidhan Sabha. This would be a complete work flow based internet enabled solution for automated working of various committees and members of assembly, he added. He said that e-vidhan project would also help in reducing use of paper and improvement of carbon rating.
Vidhan Sabha speaker also requested Sibal to sanction funds for e- vidhan project and to consider this project as Mission Mode project under e- governance action plan. Kapil Sibbal assured that Government of India would provide full support to this project.
Dr. V.K. Sharma, Director General, NIC, Balbir Tegta, Secretary, Himachal Pradesh Vidhan Sabha, Dr. Saurabh Gupta, SIO, Himachal Pradesh, officers from NIC Directorate and Senior Technical Director Vidhan Sabha were also present in the meeting.