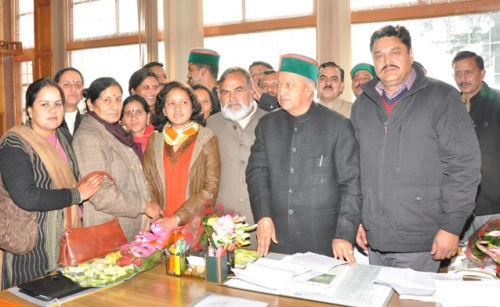 Chandreshwar Prasad – Congress nominee Zila Parishad member from Dhagoli, Rohru – is elected new Zila Parishad chairman of Shimla district. Earlier today, all congress supported Zila Parishad members met Chief Minister Virbhadra Singh and then went straight for voting. Earlier, it was expecting that Bhupender Dogra – senior Congress leader and Zila Parishad member from Bamta, Chopal – would get party's nod for the seat, but his candidature was denied at eleventh hour and replaced with Chandreshwar Prasad. Even Vice Chairman, Zila Parishad, Prahlad Kashyap was also dreaming about the post but was rejected by other members.
After the voting, newly elected Chairman Chandreshwar Prasad called on Chief Minister Virbhadra Singh. He was accompanied by Anirudh Singh, MLA and former Chairman Zila Parishad, Shimla, Prahlad Kashyap, Vice Chairman, Zila Parishad and Brij Lal, former Chairman, Kailash Federation and other members of Zila Parishad, Shimla.
Shimla Zila Parishad chairman seat was vacant after a glorious win of former chairman Anirudh Singh as Vidhan Sabha candidate from Kasumpati assembly segment.