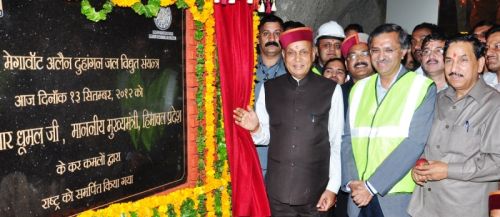 In a public meeting at Prini in Manali in district Kullu, Chief Minister Prem Kumar Dhumal stated that State Government would be opening a National level Hotel Management Institute to feed hospitality industry with professional manpower in the world famous tourist destination Kullu-Manali valley by spending Rs. 12.5 crore.
Chief Minister added that necessity for hospitality professionals had always been surfacing to serve the visitors in a traditional Himachali style and with the setting up of one more institute in the state; demand for such professionals would be fulfilled. He said that although there were a number of tourist spots in the valley but more such spots were always in offing to attract tourists to unexplored areas of the State. He said that the government would explore possibilities of developing Hamta area from tourism point of view so that stay of visitors was prolonged.
Chief Minister also dedicated 192 MW Allain Duhangan Hydro Electric Power Project and while addressing the supporters, he laid emphasis over a National Policy to trade the generated power in the market so as to ensure reasonable price to the power producers. He said that it had repeatedly been mentioned that there was need for over one lakh MW of power in the country but no serious efforts had been made by the Centre in this direction. He said that Himachal Pradesh, which had the highest hydro potential of over 23,000 MW, had only 2,838 MW power in year 1998 and when BJP came to power in the State, the same was increased to 9,000 MW. He said that as per estimates the State would be in a position to generate 15,000 MW power by year 2015 and entire potential by year 2020. He said that hydro power generation process was eco-friendly and cost effective in long term.
Chief Minister advised the entrepreneurs investing in hydro power sector, to win the trust of the people of the area where their projects were being commissioned. He said that with people's participation it would be more convenient for them to carry forward with their ventures. He said that while discharging corporate responsibilities the interests of the people should be considered on priority as they are the one who surrender their land and other assets to pave the way for the completion and running of projects. He congratulated AD Hydro Power Limited for successfully completing the project and discharging corporate responsibilities.
Prof. Dhumal made announcements worth Rs. 2.10 crore towards various developmental requirements of the area, which included construction, mettaling and tarring of the roads, foot bridges, community centres, mahila mandal bhawans, additional blocks in the schools etc. which also included development of parking near Manali hospital at a cost of Rs. 45 lakh, provision of 1500 dust bins at a cost of Rs. 18 lakh, high-mast lights at a cost of Rs. 7.5 lakhs, solar lights at a cost of Rs. 18 lakh and various developmental activities in Prini Panchayat at a cost of Rs. 18 lakh.
Gobind Thakur, local MLA, welcomed the Chief Minister to his home segment and thanked him for adding one more milestone in hydro power sector in the valley. He counted developmental milestones established during current regime which also included a Rs. 50 crore Mega Tourism Circuit Project, sanctioning Rs. 100 crore ultra modern inter-state bus stand at Manali, polytechnic college at Seobag, etc. He thanked the Chief Minister for approval of a Vision Document for Manali which would attract more tourists to the valley in coming years. He urged for two fire tenders, mettaling and tarring of the Prini-Shuru road.
Ravi Jhunjhunwala, Chairman, AD Hydro Power Limited, welcomed the Chief Minister and thanked him for dedicating the project to the Nation. He detailed the activities undertaken under corporate social responsibility and also apprised the audience of the features of the project. He announced two fire tenders and mettaling and tarring of the Prini-Shuru road by the project on the demand of local MLA.
Krifve Eric, CEO, Statkraft Norfund Power Invest AS, Norway, partner in the AD Hydro Power Project, also thanked the Chief Minister for all the cooperation they received from the state government. O.P.Ajmera, CEO, AD Hydro Power Project proposed vote of thanks.
Khimi Ram Sharma, Forest Minister, Kishori Lal Sagar, MLA, Chander Sen, former MLA, Dhaneshwari Thakur, Chairperson, State Women Commission, Ram Singh, President, District Kullu BJP, senior officers and prominent people of the area were present on the occasion.