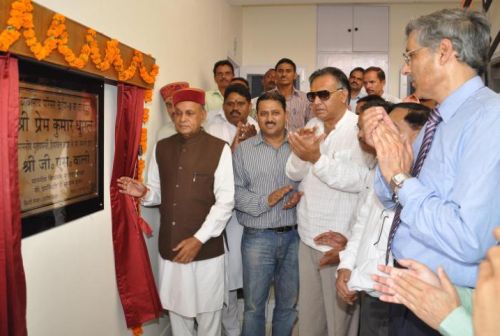 Chief Minister Prem Kumar Dhumal dedicated type-V residential quarters to the medical fraternity of the college, constructed at a cost of Rs. 5.12 crore and dedicated Intensive Care Unit (ICU), equipped at a cost of Rs. 1.64 crore. While addressing the gathering, CM claimed that Dr. Rajendra Prasad Government Medical College, Kangra at Tanda had been developed at a cost of Rs. 553 crore out of which Rs. 272 crore had been provided by the BJP Governments to develop it as a Centre of Excellence and Super Speciality Medical College and hospital in the North India.
Chief Minister said that the State Government was providing added priority to quality medical education and with consistent efforts the seats for MBBS had been increased from 115 to 200 and PG seats also increased in different departments. He said that the bed capacity in the medical college had also been increased 569 which would further be increased to 778 in near future thereby creating more space to the patients to avail indoor treatment facilities.
Prof. Dhumal said that the State Government had also been making efforts to strengthen the medical fraternity in the medical colleges and provide them all facilities to help them deliver to people the best medical care facility. He said that Tanda college was emerging fast as a Centre of Par Excellence in Medical Education with better facilities. He said that ESI Medical College and Hospital would be starting its normal functioning very shortly which would further supplement the endeavour of the state government to produce more medical professionals. He said that efforts were afoot to motivate competent private players in the field of medical education to open more medical colleges in the state so that the state was known as a nursery of best medical professionals in the medical world.
Chief Minister exhorted the medical fraternity to dedicate themselves to the service of the sick and deprived, and medical professionals needed to adhere to the faith people had reposed in them. He said that medical happened to be a pious service which had to be delivered to the people with dedication and devotion. He said that there was hardly any hospital in the country as well as in most of other countries, where medical professional from the state were not delivering their services bringing pride to Himachal Pradesh at National and International level.
Dr. Anil Chauhan, Principal, Dr. Rajendra Prasad Government Medical College, welcomed the Chief Minister and said that the college had grown into a super speciality hospital by spending Rs. 150 crore more on developing quality infrastructural facilities in the institution. He said that PG seats had been increased to 48. He said that the college was well equipped to deliver specialized medical services. He thanked the Chief Minister for his patronage extended to the college in equipping it with world class medical care facilities.
Dr. Rahul Gupta of the college proposed vote of thanks. Dr. Akshay Sharma, newly elected President of college CSA also extended warm welcome to the Chief Minister for his visit to the campus.
Sarveen Chaudhary, Social Justice and Empowerment Minister, G.S.Bali and Sanjay Cahudhary, MLAs, Ram Chand Bhatia, former MLA, Ghanshyam Sharma, Vice Chairman, Employees and Pensioners Welfare Baord, Shreshta Koundal, Chairperson, Zila Parishad, Sanjay Sharma, Member, State Media Advisory Committee, Gujjar Mal, President, Kangra BJP Mandal, K.R.Bharti, Deputy Commissioner, Daljeet Thakur, Superintendent of Police, other senior officers and prominent people of the area were present on the occasion.