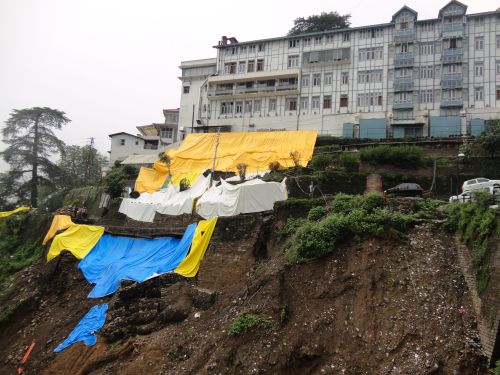 Heavy rain has caused another landslide near the high court where a hill has been excavated for the construction of chambers for advocates and has amplified danger for the British-era heritage Clarks hotel. Due to the sinking of land even movement of vehicles on Circular Road was suspended and diverted through the bypass.
Earlier, major portion of the retaining wall of Clarks hotels and road has slide and forced to stop the construction work for lawyers chambers as well and with now fresh landslide, even it has presented threat to the Hotel as sinking land has already engulfed newly erected retaining wall as well and big fissures at the other major retaining walls of Hotel are quite visible from the High Court side.
Officials of PWD have admitted that the soil at the project site is weak, unstable and a sliding prone and now question raises that why authority agreed to grant such heavy construction at this site. On the one side authority shows its keenness to protect heritage sites in Shimla and on the other side its decision raises doubt over its keenness and claims to protect it.