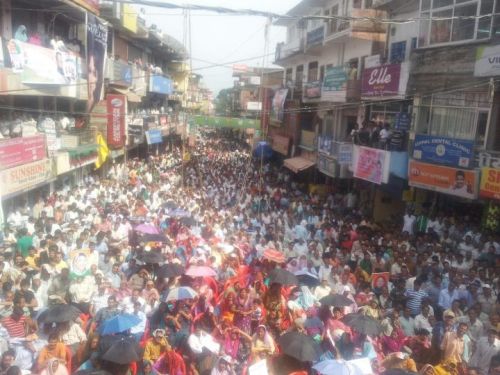 Congress holds its 4th Parivartan Rally at Gandhi Chowk, Hamirpur and successfully showed its strength at Chief Minister's Home Town. Thousands of Congress workers and supporters attended the Rally. Congress senior leader and Chairman of the state Congress campaign committee Virbhadra Singh lambasted at the Dhumal government for allegedly victimising its political opponents by implicating them in false cases.
Virbhadra Singh accused Chief Minister Prem Kumar Dhumal for victimising his political opponents by implicating them in false cases. Virbhadra Singh also thanked people of Hamirpur for making to the rally.
Himachal Party in-charge Birender Singh Chuadhary criticised BJP regime for corruption in the state. He urged the voters to help defeat the BJP, he added that the future belongs to the Congress in the state and people will have to decide whether they want a communal and corrupt BJP government or a progress-oriented Congress government.
HPCC president Kaul Singh Thakur rubbished the allegation of discrimination levelled by the state government against the UPA government. He said that BJP Govt is lying and trying to cover up its inability by levelling allegations of discrimination against UPA government. He said that UPA government has given aid and projects of about Rs 25,000 crore to the state. He advised BJP to accept their fault that its Govt has failed develop state.
Whereas, CLP leader Vidya Stokes accused BJP leaders of allegedly buying land through benami deals and sarcastically remarked that BJP is working for their own development and have forgotten to develop state. Many congress leaders including MLA, Ex MLA and other important leaders attended the rally with their supporters.