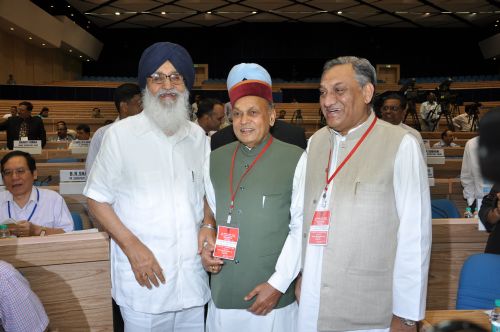 The meeting between Prime Minister Manmohan Singh, Union Home Minister P Chidambaram and state chief ministers failed to end the deadlock on the National Counter Terrorism Centre (NCTC), as 10 states Chief Minister rejected the present form of it.
Himachal also rejected the bill as Chief Minister strongly opposed the setting up of national counter terrorism centre (NCTC) in the country. While speaking in the chief ministers' conference on NCTC at Vigyan Bhawan New Delhi today Himachal chief minister Prem Kumar Dhumal said that federal structure of the country is being weakened in the garb of setting up NCTC. He added that state Govt were not consulted by the central Govt for setting up N C T C in the country while every years state Govt were assured during internal security meetings that all new initiatives will be taken after consultations with the states and added that this separate meeting has been called only when all state Govt raised hue and cry on this issue.
He questioned the motive of the central Govt for keeping states in the dark about important security related issues and told that state chief ministers have no inkling of overall and long term strategy of central Govt to tackle terrorism. He questioned the concept of NCTC being put under the intelligence bureau which is faceless organisation and told that basic character of Intelligence Bureau will be compromised if the NCTC is manned and headed by Intelligence Bureo Officers. He questioned the concentrations of wide powers and discretions to intelligence organizations and feared that it could be misused for political opponents.
Chief Minister Prem Kumar Dhumal said that central Govt approach to entire issue has been very ad hoc and told that centre should devise a long term, well thought out strategy through due consultations and wide spread discussions with state governments but lamented that centre response to the problem of terrorism is marked with panic reaction only. He asked the union Govt to amend section 45 of the unlawful activities (prevention) act by making it mandatory to seek prior concurrence of the state Govt if a person to be arrested happens to be situated within a state other than Union Territory.

Chief Minister said that there is urgent need to take states on board, build a political consensus and strengthen and modernize the state apparatus to effectively meet the challenge of internal security with whole hearted cooperation of the state Govt. He said that setting up NCTC by encroaching on the powers and jurisdiction of state Govt will only strain the relations between centre and states.
He said that every state Govt wants to be active partner in fighting the forces which wants to destabilize the country and requested the union Govt to revamp the state intelligence agencies under police modernization scheme. He further requested the central Govt to play a proactive role in augmenting the capabilities of the state forces with special emphasis on ' counter terrorism" to avoid the repeat of incident like 26/11 in the country.
Chief Minister said that the terrorist are acquiring new technology and weapons and requested the union Govt to put an effective mechanism to safeguard innocent citizens from terrorist attacks.
Tamil Nadu Chief Minister J Jayalalithaa and Odisha Chief Minister Naveen Patnaik have suggested forming a sub-committee to discus the formation of the anti-terror agency. However, West Bengal Chief Minister Mamata Banerjee and Jammu and Kashmir Chief Minister Omar Abdullah have totally rejected the NCTC. Congress ruling Assam Chief Minister Tarun Gogoi also rejected present form of the bill and demanded changes in it. Whereas Gujarat Chief Minister Narendra Modi criticised present form of the bill and blamed Centre for not identified the enemy.