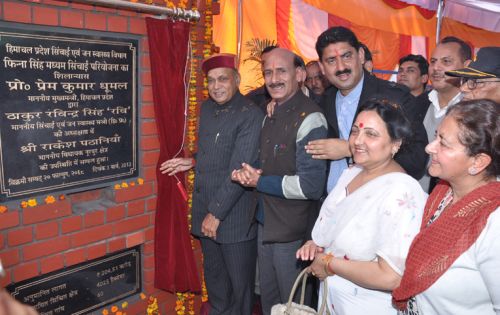 Chief Minister Prem Kumar Dhumal lays foundation stone of Rs. 205-cr Phinna Singh Medium Irrigation Scheme that will benefits 60 villages of Nurpur area in district Kangra. This will irrigate 4,025 hactares of farm land by constructing a dam over Lahru Chakki Khad and to make available 3.27 cusecs of water. The water would be drawn from Kalam Khadd and Chakki Khad and stored in 160 meters long and 22 meters high dam at Lahru Chakki Khad. The irrigation channel will pass through 4,560 meter long tunnel while the length of the channel would be 1,395 meters. The scheme is likely to be completed by March, 2015.
Rs.385 crore Shah Nehar Project would be dedicated to the farmers of district Kangra in a couple months as the construction work on the project had been expedited. This was stated by Prof. Prem Kumar Dhumal, Chief Minister, while addressing a mammoth public meeting at Gurchal near Sadwan of Nurpur sub-division in district Kangra, after performing foundation stone of ambitious Phinna Singh Medium Irrigation Scheme, estimated to cost Rs. 204.51 crore at village Sadwan; He also dedicated newly constructed New Office Building of Block Development Office completed at a cost of Rs. 33,66,500 and laid foundation stone of 6 number of type-II residential flats, estimated to cost Rs. 44 lakh, at Nurpur, today.
Chief Minister said that Shah Nehar Irrigation project MOU was signed between the then Chief Minister of Punjab and Himachal Pradesh in year 1983 and no work was executed for 17 years. He said that it was only when the BJP came to power in the State that adequate funds were provided for the project which would be ready for dedication to the farmers of the area in a couple of months as finishing touches were being given to the project. He said that Siddhatha Irrigation Project was also likely to be completed on priority and dedicated to the farmers in near future.
Prem Kumar Dhumal said that there was sea change in the living standard of the people of the State by strengthening their purchasing power. He said that a number of medical services were free to women which included Matri Seva Yojna, free institutional delivery, health care of mother and child, people were getting benefitted by Atal Swasthya Sewa Yojna, medical check up of school students under Mukhya Mantri Vidyarthi Swasthya Yojna. He said that 10 lakh students, upto matric standard would be covered under second phase of the scheme. He thanked pharmaceutical companies for coming forward to provide free of cost de-worming pills for administering to the students. He said that new Atal School Uniform Yojna was being launched to bring about uniformity in the class room by providing two pairs of school uniform to all students irrespective of their economic standing. He said that old uniforms would continue till the schools were provided new uniform. He gave a clarion call to the farming community to avail benefits under Doodh Ganga Yojna which was being implemented at a cost of Rs. 300 crore and subsidy of 25 and 33 percent was available to general and scheduled caste beneficiaries.
Chief Minister paid his floral tributes to late Phinna Singh, who after retirement had taken over the responsibility of social reforms and providing people of the area best of basic amenities. He said that the BJP Government in the State had realized the dream by laying foundation stone of the ambitious irrigation project and name the same after Phinna Singh. He said that he was proud to have each and every family, irrespective of their economic and social status by rising above all considerations. He said that there had not been any increase in the domestic power tariff as the difference was being compensated by way of providing subsidy to the tune of Rs. 166 crore to HPSEBL. He said that electricity worth Rs. 110 crore was saved by providing domestic consumers four CFL bulbs free of cost under Atal Bijli Bachat Yojna, executed at a cost and additionally subsidised essential commodities had also been provided to every ration card holder and a sum of Rs. 130 crore was being spent over the same. He said that in all Rs. 380 crore were being provided as subsidy on different essential services and commodities.
IPH Minister Ravinder Singh Ravi said that March 3, 2012 would be a red letter day to the people of Nurpur area when foundation stone of Phinna Singh Medium Irrigation Scheme was laid by Prof. Dhumal. He said that thousands of cultivable land would get irrigation facilities with the completion of the scheme. He said that Shah Nehar project was a glaring example of the negligence of the preceding government. He said that it was under the leadership of Prof. Dhumal that construction work over the canal was started and adequate funds had been provided to complete the project on priority. He said that Rs. 1,600 crore were being spent over different IPH activities during current financial year out of which Rs. 285 crore were being spent in district Kangra and Rs. 61 crore earmarked for spending in four adjoining assembly segments. He said that works worth Rs. 33.42 crore were in progress in Nurpur segment. He said that 70 litres water per person per day was being ensured in the State as compared to the national average of 40 litres of water per person per day. He said that 2,287 handpumps had been bored in the State during current financial year and out of total 25,571 hand pumps in the State 10,247 were bored during BJP regime and included 1,177 in Nurpur which also consisted of 571 bored during past four years.
Rakesh Pathania, local MLA, welcomed the Chief Minister to his home segment and thanked him for sanctioning the ambitious Phinna Singh Medium Irrigation Scheme which was a long cherished dream of visionary leader late Phinna Singh of the area. He thanked Chief Minister for providing Rs. 40 crore budget to start the project work. He also thanked Ravinder Singh Ravi, IPH Minister, for taking personal interest in getting the project sanctioned for the people of the area. He urged for providing employment and self employment avenues in the proposed project to local youth. He also thanked C.M. for providing liberal funds for various developmental works in the area.
Sarveen Chaudhary, Social Justice and Empowerment Minister, Renu Chadda, MLA, Kripal Parmar, former MP, Vikram Thakur, Vice Chairman, HP State Forest Corporation, Rajeev Bhardwaj, Vice Chairman, HRTC, Shreshta Koundal, Chairperson, Zila Parishad, R.S.Mankotia, Chairman, Kangra Central Cooperatve Bank, Abhilasha Chib, Chairperson, Panchayat Samiti, Sanjay Sharma, Member, State Media Advisory Committee, Rajesh Thakur, General Secretary, State Kisan Morcha, Ghanshyam Sharma, President, District Kangra NGO Federation, R.K.Sharma, Engineer-in-Chief, IPH, R.S.Gupta, Deputy Commissioner, Diljeet Thakur, Superintendent of Police, other senior officers of different departments and prominent people of the area were present on the occasion.