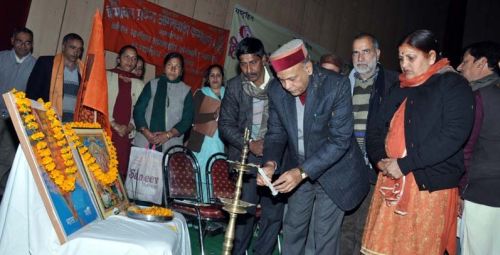 Chief Minister Prem Kumar Dhumal announced the enhancement in the wages of Anganwari Workers. Dhumal said this while presiding over the State Level Conference of Anganwari Workers Association at Hamirpur today.
He said that at present there were 18352 Anganwari workers in the State and were being paid Rs. 3000 as wages which had been enhanced to Rs, 3300 per month which would be payable from February, 2012. He said that the wages of 18352 Anganwari Sahayikas had also been enhanced by Rs. 200 per month. He said that at present Rs. 1500 per month was being paid to them and they would now be getting Rs. 1700 per month as wages from February, 2012. Besides, the monthly wages of Anganwari Sahayikas working in 330 small Anganwari Kendras in the State had also been enhanced from Rs. 250 to Rs. 330 per month thereby putting extra burden on State exchequer of Rs. 11.11 crore, he said.
Chief Minister assured to fulfill other demands of Anganwari workers sympathetically and also assured to provide them financial benefits after their superannuation. He said that the State Government would make an effort to consult Insurance Companies in this regard. Besides, the Government would also look into other demands of Anganwari workers including their promotional avenues sympathetically, he said.
He said that though Anganwari Yojna was being implemented by the Government of India and all the financial liabilities were also of Centre Government but the State Government was endeavoured to protect the interests of Anganwari workers and was also providing them all financial and other benefits on its own. He said that the State Government was committed towards welfare of women and had implemented various schemes for their welfare.
Chief Minister exhorted the Anganwari workers to disseminate the policies and programmes of the Government and particularly those for women in right perspective so as to provide benefit to them and people of the State as a whole.
Chief Minister congratulated the women folk for bringing laurels to the State at National level as evident from 'Nutritional diet for children' survey, conducted in Mandi and Hamirpur districts. He said that it was due to the contribution of women folk that mortality rate in the State had reduced considerably. He urged the women of the State to assist in making the ambitious 'Mother and child tracking' scheme a success.
Des Raj Sharma, State President, Bhartiya Mazdoor Sangh thanked the Chief Minister for giving various financial benefits and protecting the interests of employees. He urged the Chief Minister to consider the demands of Anganwari workers sympathetically. Smt. Shanti Chauhan, State President H.P. Anganwari workers Federation welcomed the Chief Minister and apprised him of the demands of Anganwari workers. Reeta Rana, Member, All India Anganwari Workers Federation read out the demand paper of the State Federation. Baldev Sharma, Urmil Thakur, MLAs, Pyare Lal Sharma, Chairman APMC and State Kisan Morcha, Rasil Singh Mankotia, Chairman Central Cooperative Bank Deep Kumar, Chairman Municipal Council, Adarsh Kant President BJP Mandal, Hamirpur prominent persons of the town and Senior officers of the State Government were present on the occasion.