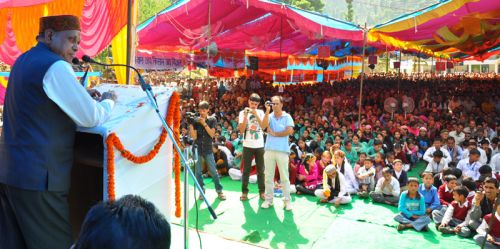 Chief Minister Prof. Prem Kumar Dhumal said that Rs. 181 crore are being spent on construction of various roads and buildings in Chachiot Assembly Segment. Chief Minister was visiting Thunag, Seraj area of district Mandi, and he also laid foundation stone of the Panchayati Raj Training Institute, estimated to cost Rs. 6.48 crore. Chief Minister inaugurated newly constructed Science Laboratory building of the GSSS Thunag, completed at a cost of Rs. 67.30 lakh and laid foundation stone of new building of the GSSS Thunag estimated to cost Rs. 82.84 lakh. ITI Bagsyad also got benefited with the Chief Minister's visit as he dedicated newly constructed building of Industrial Training Institute at Bagsyad, completed at a cost of Rs. 1.38 crore to the students of the institutions. He assures that Rs. one crore would be spent on machinery and equipments of ITI Bagshayad and fitter trade would be introduced from next academic session.
Chief Minister said that Rs. 40.06 crore were being spent under NABARD and Rs. 31.72 lakh projects had also been sent to the World Bank for sanctioning and additionally Rs. 72 crore were being spent under PMGSY projects and additionally Rs. 23 crore were being spent under Central Road Fund in widening the Mandi-Gagal- Chail Chowk – Janjehali road. He said that in all Rs. 181 crore were being spent on various infrastructural creation activities in Chachiot assembly segment during current financial year. He said that additionally Rs. 2.86 crore were being spent on Chail Chowk Gohar road and Rs. 131.05 lakhs on construction of GSSS at Thachi; Rs. 5 crore on Government Degree College, Lambathach; Rs. 326.35 lakh on construction of CHC Building at Janjehli and Rs. 73.06 lakh on PHC Thachi building. He appealed to the people to provide land for various road projects in their area so that development could gain momentum and benefit them with better facilities.
Chief Minister also released the inaugural number of Mandi MNREGA magazine on the occasion. Earlier Panchayati Raj and Rural Development Minister Jai Ram Thakur welcomed the Chief Minister.