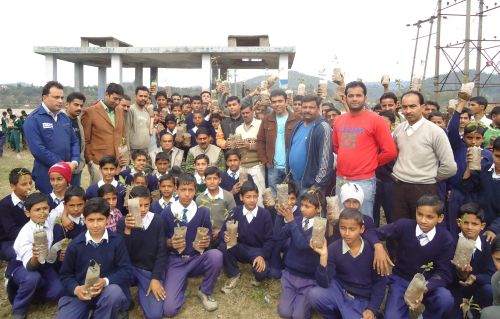 To sensitize and motivate the students on environment conservation, Ashadeep a Shimla based NGO organizes a day long awareness and tree plantation campaign at Jasur, Kangra in association with Eco and Agro Resource Management and UNDP. Students from Public Model High School and Govt.Sr.Sec.School Jasur participated in the campaign.
Ashadeep's local coordinator Mr Neeraj Awasthi said that carrying ahead Ashadeep's objective of ecological preservation ,the purpose of today's program was to enlighten students about the adoption of low carbon life style thereby help reduce the levels of carbon in the atmosphere and keep the environment clean and green.
The local MLA Rakesh Pathania inaugurates the program and also plant Arjun tree. He lauded the effort and also urges the people to follow the pursuit shown by the students, who convert this small step into a big movement. Forest department made about 700 saplings of Arjun species available for the plantation.
On the occasion Arshinder Kaur of Eco & Egro Resource Management Chandigarh said that "For the project under the aegis of Common Wealth Games 2010 we have been given the responsibility of conducting program in Punjab, Chandigarh and Himachal Pradesh. For Himachal chapter we are associating with Ashadeep to achieve the objective,"