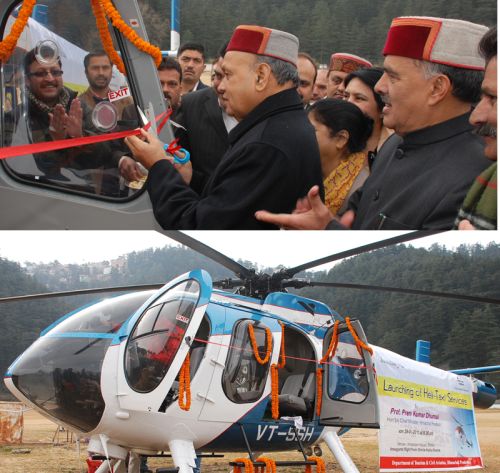 Chief Minister Prem Kumar Dhumal will inaugurate the much awaited Heli-Taxi service on tomorrow at Annadale Helipad, Shimla. The aim of the service is to attract high-end tourists and acquaint them about the hidden beauty of the hill State.
Director, Tourism & Civil Aviation Dr. Arun Kumar Sharma assert that department has already signed an agreement with Heli-Taxi operators and base of operations for the service would be Annadale Helipad in Shimla. The Heli-Taxi operators are M/s Simm Samm Airways and M/s Shiva Heli Services and routes would be between -Shimla-Kullu, Kullu-Manali- Rohtang Pass-Tandi, Manali valley joyride flights.
There are 57 helipads in the State and many of them are located in Tribal areas of the State. The various destinations in these areas have no access for the tourists during the winter season due to heavy snow-fall on the high altitude Passes. The Department expects that with the introduction of the service the inflow of high-end tourists and Corporate Houses would increase which will help in generation of indirect employment opportunity for the people of the remote areas.
The details about fare and flight timings can be had from offices of Himachal Tourism and above companies on Tel No. 098140-42482,098141-11125 and 0177-2831280, 092186-20213.