Barsar: Himachal Pradesh Chief Minister Jai Ram Thakur blamed the previous state Government for cheating youth on the issue of Unemployment allowance. The CM, while seeking votes in favor of Anurag Thakur at Barsar in Hamirpur Lok Sabha constituency, accused Congress for failing to fulfill the promises made to the youth.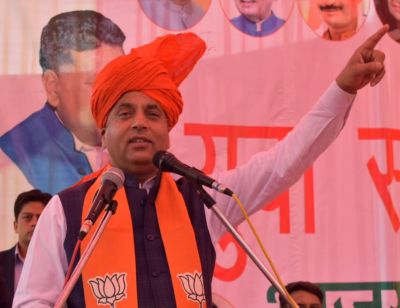 The Chief Minister said, the youth is the future of our nation, keeping this in mind the BJP government at the centre and the state have started social and upliftment schemes for the youth. He said that the state government has started Chief Minister Swablamban scheme, in which 60 lakh rupees loan can be obtain with 30 percent subsidy, not only this in the skill development programme for the youth a 100 crore budget allotment for the next financial year has been done.
He said that all the four candidate of Bhartiya Janta Party have been chosen for their great work in respective fields. He appealed to the people to vote for BJP for strong Union Government under the leadership of Narender Modi.
Jai Ram Thakur said that the efforts put in by the workers of BJP will not fail and party will win all four seats. Thakur quipped
"The Congress party knows it will lose, and thus most of its leaders are shying away from contesting election"
He said that the Modi government has taken good care of all the sections of society and the development for all is historic in its self. Before the BJP rule Congress government ruled for 10 years and their tenure was full of corruptions. On this occasion a lot of families left congress and joined BJP today, he further stated.