BJP in 16 states and serving people with devotion and ensuring even development: Jai Ram Thakur at Panna Pramukh Sammelan
Solan: Himachal Pradesh Chief Minister Jai Ram Thakur lambasted at the opposition Congress for using un-parliamentary language against BJP leaders. Thakur, while interacting with media, said that the Congress registered marginal vote gain in the recently concluded assembly elections of three states of the country, but its leadership both at Centre and the State in over enthusiasm and are crossing all limits of decency and using un-parliamentary language. He termed the Congress leaders' outburst unfortunate and uncalled for.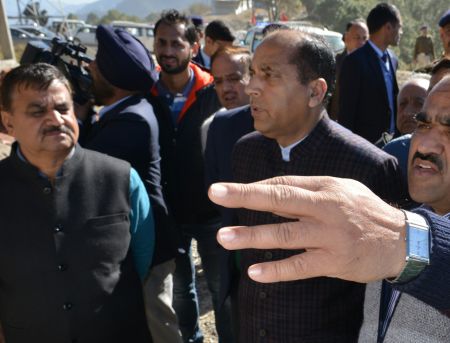 The Chief Minister reminded Congress leaders that even today the BJP governments is in 16 states, serving the people with devotion and energetic manner besides at the Centre and the nation was forging ahead on the path of progress and prosperity under the dynamic leadership of Prime Minister Narendra Modi.
Commenting on the recent outburst of young Congress leader and Shimla rural legislature, Jai Ram Thakur stated that Vikramaditya Singh words shows his political immaturity and lack of knowledge of state and national politics.
The Chief Minister said that the state government during its one year tenure has ensured development of all areas of the state and welfare of every section of the society was being ensured. He said that the government also succeeded in getting developmental projects worth about Rs. 10,000 crore sanctioned for the state from the Centre. He said that it was due to the benevolence of the Prime Minister that today the state was emerging a front runner state in matter of development in the country.