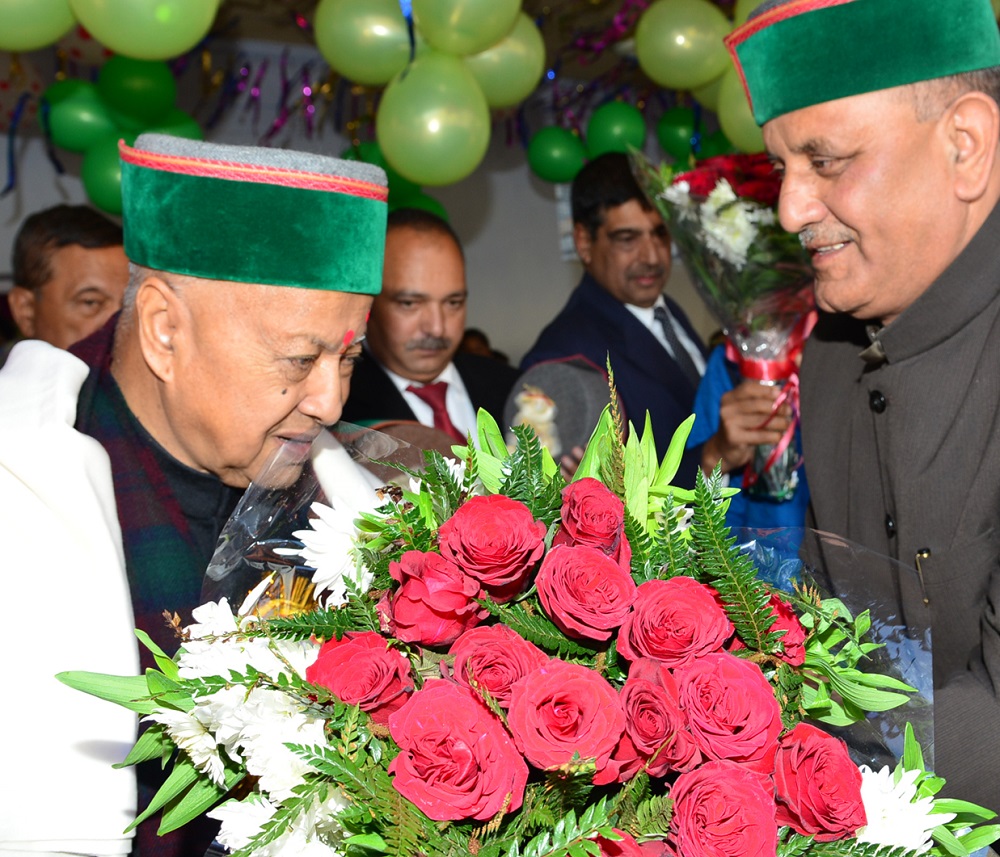 Rampur: Chief Minister Virbhadra Singh said that the State Government was ensuring equitable and speedy development of all areas of the state besides ensuring that there was no compromise with quality, while executing the developmental works.
Virbhadra Singh, while addressing the people during the closing ceremony of four-day long International Lavi fair today, complimented the people of the area on the occasion of the traditional Lavi fair, adding that with a view to celebrate these fairs in a much befitting way, the State Government had given international status to many fairs organised in various districts of the state. He said these festivals were not only the medium of entertainment, but these immensely help in promoting and carrying forward our century old traditions, culture and folk languages.
The Chief Minister said it was unfortunate that this year trade was affected to a large scale and people also showed enthusiasm during Lavi fair as compared to previous years due to demonetization policy of the government of India.
Earlier, Chief Minister Virbhadra Singh inaugurated and laid foundation stones of developmental works worth Rs. 60 crore in Rampur constituency including roads, water supply schemes, horticulture office and primary health centre in the constituency.
He laid foundation stone of restoration and beautification of eight ancient temples and creation of tourist facilities at Rampur Bushahr and surrounding areas. These include Ayodhya temple, Bhimakali temple, Bodh temple, Chuvacha temple, Dattatrey temple, Guffa temple, Narsingh temple and Raghunath temple. A sum of Rs. 18.65 crore would be spent on beautification and restoration of these temples by the Himachal Tourism Board with funding from the Asian Development bank.
Virbhadra Singh inaugurated scheduled caste (girls) hostel at P.G College Rampur Bushahr constructed at a cost of Rs. 259.28 lakh. He also laid foundation stones of up-gradation of Bhadrash, Brandli road in gram panchayat Devnagar to come up at a cost of Rs. 944.29 lakh, Palzara-Pie-Ghincha-Shingral road to be constructed by spending Rs. 200 lakh and up-gradation of Bahli-Nehra road to be carried out at an outlay of Rs. 124.02 lakh.
The Chief Minister inaugurated Ayurvedic dispensary at Narain, additional accommodation of GSSS Narain, Horticulture Extension Office Bahli, office-cum-residence of Assistant Engineer (PWD) at Taklech and lift irrigation scheme Bhdawali-Kumsu. He laid foundation stones of Shinti Kainchi to Dharla road, construction of Gaura-Jarind road and also inaugurated primary health centre building at Barachand Kangra Central Cooperative Bank branch at Brow (Anni). He directed the Bank authorities to install ATM of the bank in this branch to facilitate the local people. He laid foundation stone of Ucchi Shah-Dofda-Daran-Devathi road to be completed at an outlay of Rs. 944.29 lakh.