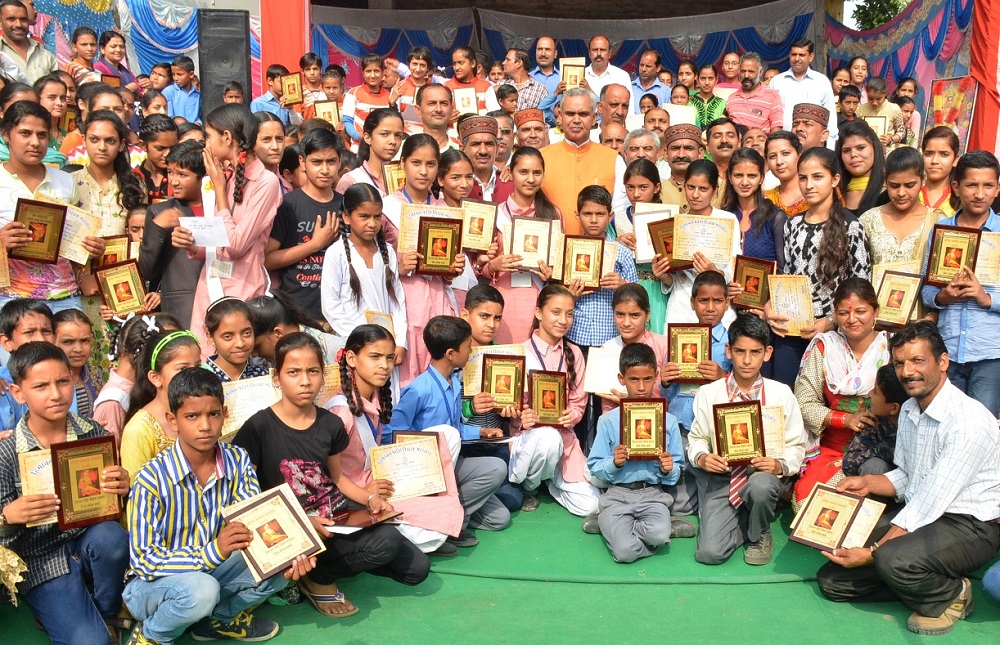 Darlaghat: Governor Acharya Devvrat said although human being has achieved success in every sphere in the modern world, but still it was a matter of concern that ideologically the society has lowered the standards. He stressed the need to re-establish the high values and culture and emphasized to make the way of thinking 'World Wide' which was important for the peace and human well-being.
The Governor, while speaking at 'Pratibha Samman Samaroh' organized by District Solan Shikshak Mahasangh at Darlaghat today, stressed upon the need for seriousness towards education and said that it was not the physical invention which builds the strong nation but the teachers, who were responsible to instill the values of patriotism, discipline, humanity in the students, so that they grow up as sensitive and responsible human beings. He said that India was a country of great educationists and thinkers, who scripted several texts for the welfare of humanity. There was a time when India was the centre of education in the world and students from all over the world used to visit here for attaining knowledge, he added.
He said that the today, the whole world was longing for peace and stressed that such education should be imparted which was filled with human values and help the others. Since time immemorial, universal brotherhood and peace were integral part of culture and tradition of India. He said that it was important to impart moral values to the younger generation to maintain connection with the culture as the Indian traditions and culture were always above from other considerations.
He said that over the years, there had been degradation in society and we were responsible for these conditions as we are not discharging our duties properly. He appreciating the efforts of the Shikshak Mahasangh in imparting value based education to the students. He also congratulated them for organizing the function.
The Governor said that it was unfortunate that our society was mostly affected by the evil of female feticide, which should be checked and added that uneven sex ratio could disturb balance of the society. He said that today girls were excelling in almost every field and there was a need to change the mindset of the people so that girls could get proper respect and honor.
He also urged the educated society to participate in social awareness campaign and work for eradicating social evils from the society.
The Governor also gave away the prizes to the meritorious students and others who excelled in their respective fields. Earlier, the Governor also participating in cleanliness drive at Darlaghat.