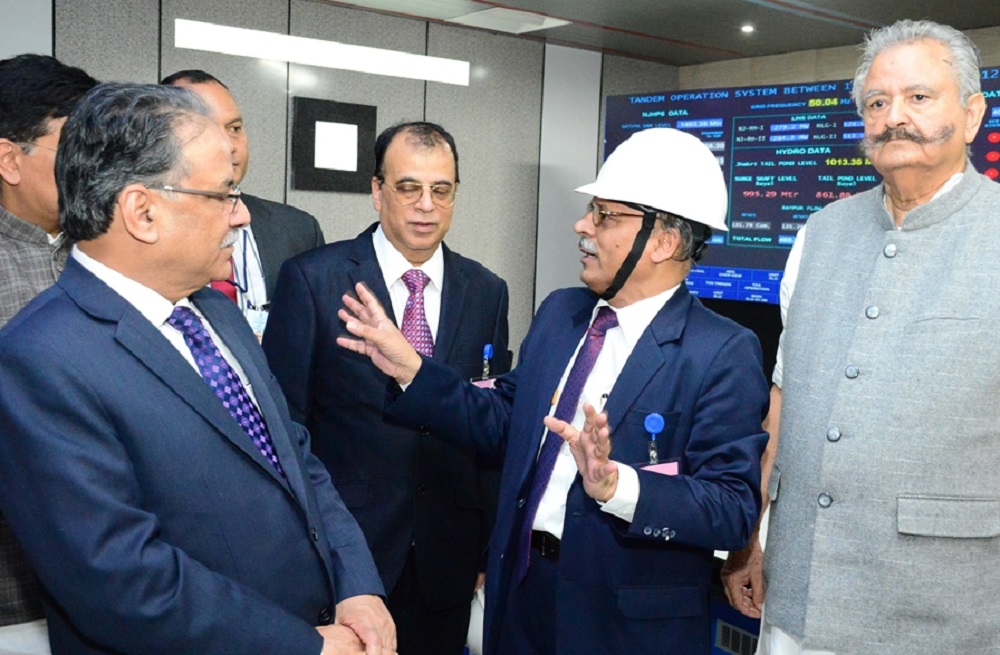 Prime Minister of Nepal Pushpa Kamal Dahal 'Prachanda' today visited the 1500 MW Nathpa-Jhakri hydro power project of Satluj Jal Vidyut Nigam Limited (SJVNL) in Shimla district with the Indian and Nepalese delegation.
Prachanda inspected the hard coating plant and underground power house of the project, which is the biggest power of the country. The authorities of the SJVNL briefed the Nepalese Prime Minister about the technical specifications and functioning of the project, which is the joint venture of Government of India and Government of Himachal Pradesh.
Nepalese Prime Minister impressed with the project and said it was encouraging as SJVNL was working on few hydro-electric projects in Nepal. He said that a Memorandum of Understanding had already been signed with India in May, 2014 for commissioning of 900 MW Arun-3 hydro power project. He expressed satisfaction over Nathpa-Jhakri project and added that the experience and expertise of SJVNL in hydroelectric projects would help Nepal in commissioning few more projects successfully.
Minister of State for Power, GoI, Piyush Goyal said Arun-3 hydro-electric project was a beginning of new chapter between the relations of India and Nepal and the work on this project would be expedited. He said that India and Nepal were working together on few more projects and it was a matter of great satisfaction that the neighbouring nation had expressed faith in India to go ahead with these projects.
Goel also appreciated the efforts of the Himachal Government for waiving off 12 percent duty in hydropower projects over Chenab basin which would ensure restart of these projects.
CMD, SJVNL R.N. Mishra gave a detailed presentation on the Nathpa-Jhakri and Rampur hydro power projects.
Earlier, Sujan Singh Pathania welcomed the Nepalese delegation on behalf of the State Government.