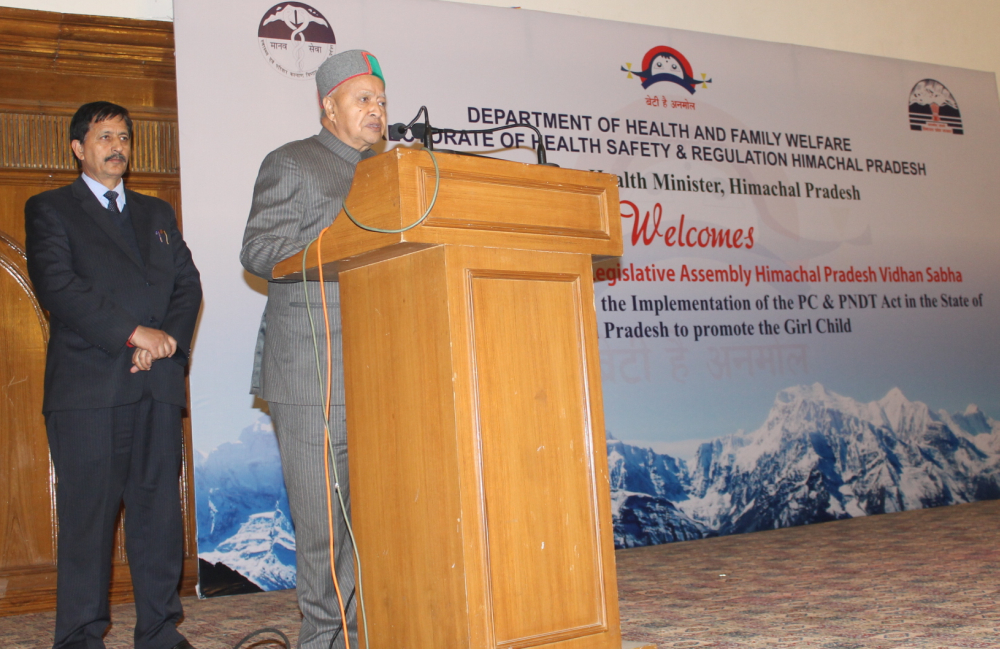 Shimla: In a sensitization workshop on Pre Conception & PNDT Act, for the members of the State legislative assembly, Chief Minister Virbhadra Singh said that State Government had taken stringent measures to check female foeticide under Pre-Natal Diagnostic Technique (PNDT) Act.
The workshop was organized by the Health Department here late last evening. The Chief Minister said the need of the hour was to make people aware about the social evil so that it could be completely eradicated from the society. He said
"It is our moral responsibility to stand united against the female foeticide and being practiced by few in the border district of the State", adding that though the male female sex ratio in Himachal Pradesh was far better than the neighbouring States of Uttrakhand, Punjab, Haryana, Jammu and Kashmir, yet strict measures were required to completely eradicate this social evil.
The Chief Minister said that Lahaul-Spiti district with child sex ratio 1033 girls per thousand boys was not only best in the State but also in the entire nation.
Virbhadra Singh said that State Government had implemented 'Beti Hai Anmol' Scheme in the State and also have started various other schemes for improving better male-female sex ratio.
Health Minister Kaul Singh Thakur said that various measures were being initiated for improving the child sex ratio in the State. Thakur further added that the Government had decided that the Panchayats with better male-female sex ratio would be rewarded with additional financial assistance for carrying out developmental activities.
Health Minister added that sudden checks of various labs were also being conducted and regular review meetings were being held at district level to further strengthen the PNDT Act and take necessary action as and when required to improve the child sex ratio and to take necessary legal action against those who were involved in such illegal abortions of girl child.
Vidhan Sabha, B.B.L. Butail, Leader of Opposition, Prem Kumar Dhumal, Transport Minister, GS. Bali, Industries Minister, Mukesh Agnihotri, Social Justice and Empowerment Minister, Dr. (Col.) Dhani Ram Shandil, Chief Parliament Secretaries, MLA's, Additional Chief Secretary, Health, Vineet Chaudhary and Director, Health Services, Rameshwar Sharma were also present on the occasion amongst others.