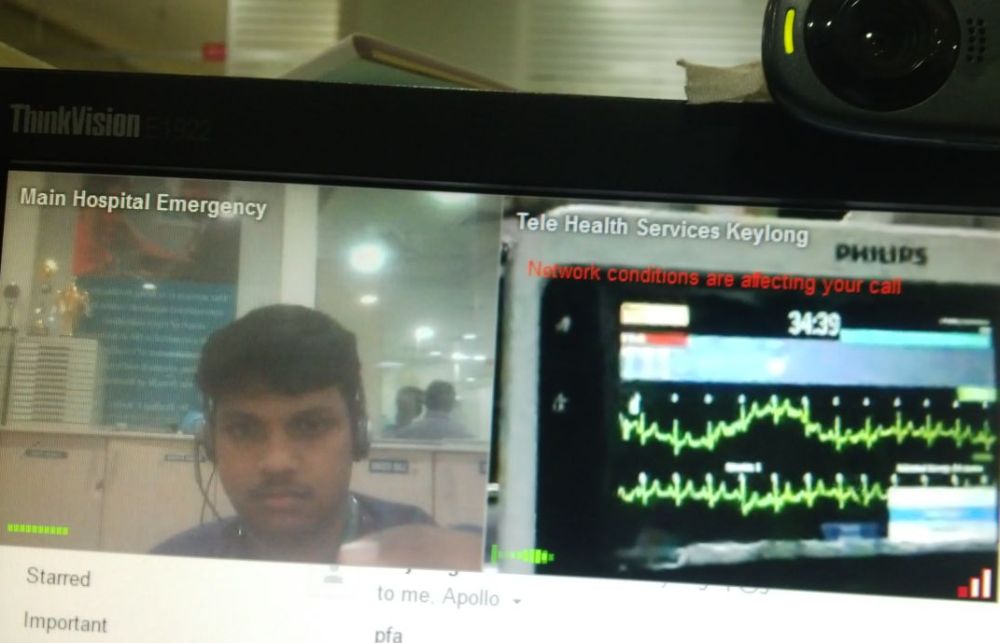 Shimla: Geographical barriers, limited health care facilities didn't hinder in saving a precious life in the tribal district of Lahaul & Spiti when a 31 year old patient was brought to hospital in a critical condition at Keylong. Timely medical advice from a Specialist of Apollo Hospital Chennai to the Doctor at District hospital through Tele Health Services, Keylong, came to the rescue of the patient and his condition was stabilized, last evening.
Health Minister Kaul Singh Thakur said that Tele medicine initiative in the State has proved to be a boon to the needy patients during emergencies especially in the remote and rural areas. He said that the fusion of Information and Communication Technology with medical science has proved effective in meeting the challenges of the health care delivery in far flung areas. He said that 2500 patients in tribal area were benefitted during last one year through this initiative.
The Minister said that the Tele medicine project envisages to provide medical advice and consultancy over a simple telephone, interactive medical video conference using broadband telecommunication media for providing support to patients at an affordable cost in inaccessible areas from the Specialty Hospitals where it was not possible for them to reach in time.
He said that the project was started in IGMC, Shimla in 2005 with a view to ensure connectivity/linkage of health institutions located in interior and rural areas to IGMC Shimla. He said that the project was running successfully by the Rogi Kalyan Samiti of IGMC Hospital in respect of video teleconferencing and for getting expert opinion. Presently IGMC is connected with PGIMER Chandigarh on every Wednesday and SGPGI Lucknow on every Saturday for live transmission and getting second opinion. IGMC Shimla is also connected with AIIMS New Delhi, Rohtak and Cuttack, he said.
Additional Chief Secretary Health Vineet Chaudhary said that tele health services would prove beneficial to patients in rural and remote areas as instant specialized medical advice and treatment would be available to them in emergencies. It would also help in updating medical professionals posted in such areas thereby bringing qualitative improvement in the services being provided to the people of the state.