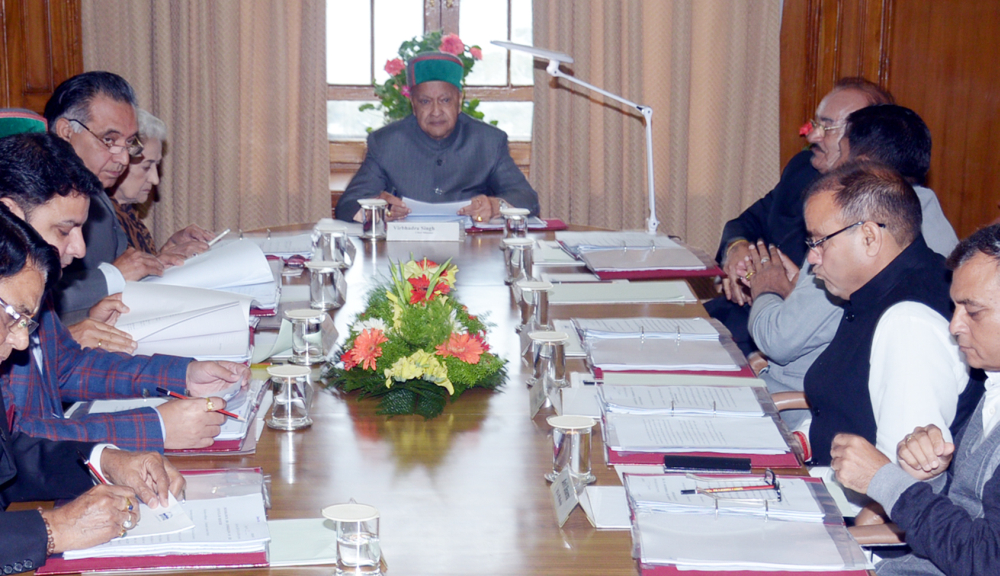 The Himachal Pradesh Cabinet, in its meeting held here today, gave nod to constitute the Fifth State Finance Commission for one and half year which will make its report available by 30th April, 2016 covering a period of five years commencing from 1st April, 2017.
Chief Minister Virbhadra Singh chaired over the meeting.
The Commission shall consist of a Chairman and two other Members and the terms of reference for the constitution of the State Finance Commission would be the same as were of Fourth Finance Commission.
The Cabinet also amended the House Allotment Rules, 1994 for Government accommodation under general pool. The Government residences allotted to an officer or official can be retained for bona-fide use on the payment of normal license fees in case the serving officer/official is transferred to hard and tribal areas of the State.
The Cabinet agreed upon to attach eight temples of Bharmour area, Har-Har Mahadev, Ganpati Temple, Dharmeshwar Temple, Lakhna Mata Temple, Narsingh Maharaj Temple, Bharmani Mata Temple Malkauta, MahaKali Temple Banni and Shiv Temple at Manimahesh under the Manimahesh Trust.
The Cabinet gave approval for setting up Kendriya Vidyalaya at Saloh in district Una and lease out the Government land for construction of the same.
It was decided to create six posts of Deputy Inspector General of Police (DIGP) and Superintendent of Police (SP) level and the proposal may also be sent to Ministry of Home Affairs (MHA) for increasing the strength of IPS cadre of Himachal Pradesh to 100 from the existing 89.
The Cabinet also decided to increase the VAT of diesel by one per cent and it's expected to add to revenue earnings to the tune of Rs. 26 crore annually.
The Cabinet also gave its nod to amend the existing schedule (Input tax restricted goods) appended to Himachal Pradesh Value Added Tax Rules, 2005 by inserting a new clause to prevent loss of VAT due to huge difference in rate of tax on the commodities in comparison to other States.
The Cabinet agreed upon to upgrade Primary Health Centre Kupvi in Chopal to 30 bedded Community Health Centre along-with the requisite staff.
It also approved the bid document for 37 Hydro Electro Projects on Build Own Operate and Transfer (BOOT) basis.
The Cabinet decided to amend rule 9 of Himachal Pradesh Passenger and Goods Taxation Rule, 1957 to streamline the passenger tax collection in the State.