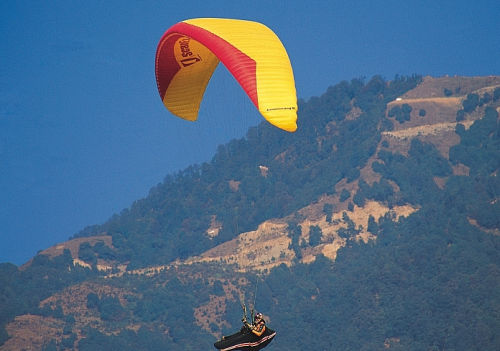 Himachal Pradesh set to host the Paragliding World Cup-2015 at Bir in Kangra district in October.
Urban Development Minister Sudhir Sharma, who is also Chairman of the Billing Paragliding Association, disclosed here today that this was for the first time in the history of India that world cup is being organised in the country.
The World Cup would be organised from 24 to 31 October, 2015 at Bir in Kangra district in which around 150 top ranked pilots of the world would participate besides 500 free flying pilots.
He said that it was a great achievement for the State to host the first ever Paragliding World Cup in the country. The State had already organised paragliding pre-world cups thrice and during last year the State had made a bid for organizing world cup. He said that State had been given an opportunity to organise this event by the Paragliding World Cup Association keeping in view the successful organization of pre-world cup last year where all arrangements and security norms were of international standards and cash prizes given were highest ever in the Asian region.
Sudhir Sharma said that different kinds of activities would be organized to add attraction to the competition which includes Acrow Show in air and hot ballooning etc. He said that live trekking system facility would be introduced during the event to ensure safety of the pilots and it would also help in fast retrieve and rescue in case of any emergency.
He said that elaborate arrangements would be made by the State government and the Association for successful organization of the event. The take off and landing site would be ready by the end of this year and rest infrastructure by March, 2015.
The Minister added that this event would give boost to sports and tourism activities in the State and the international participants, pilots and other visitors would also be able to witness the majestic beauty of the valley.
Earlier, Himachal Pradesh had host Paragliding Pre-World Cup successfully at Bir-Billing last year.