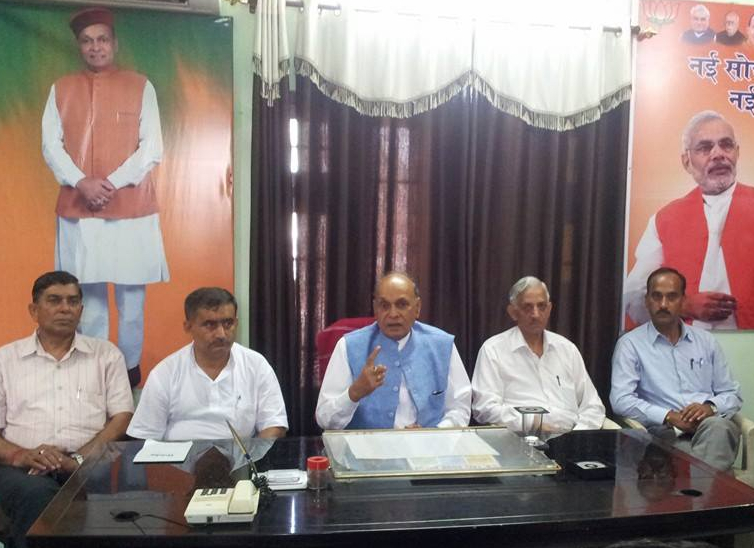 BJP senior leader and former Chief Minister Prem Kumar Dhumal has rejected the Urban Development Minister Sudhir Sharma's statement blaming the previous BJP government for financial mess in the state.
Leader of opposition, in his press communiqué, accused the present Congress government of making false allegations against the BJP government to cover up its failure on the economic front. Dhumal termed the Minister's statement as false, misleading and contrary to the fact.
Former Chief Minister said that on one side, the state government projecting itself as a benefactor of the employees and on the other it is criticising the BJP government for extending financial benefits like the benefit of time scale (4-9-14) from 2004, to the state employees.
Prem Kumar Dhumal claimed that the Congress led State Government is solely responsible for the present financial mess o the state. He questioned the need for appointing 30-35 chairmen and vice-chairmen and purchasing of luxury vehicles. He said these chairpersons and vice-chairpersons were undue burden on the finance and have no work except making accusations and insinuations against the BJP government.
Dhumal claimed that BJP, when in the power, never stopped developmental works and also given due share of the employees. Clarifying the allegations over the loan, Leader of opposition said the BJP government had raised loans amounting Rs 6,672 crore during 2008-2012 while the Congress government raised loans of Rs 8,032 crore from 2003 to 2008 and Rs 4,000 crore during the past 20 months.