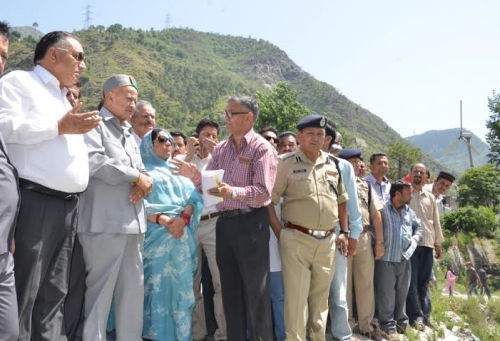 Chief Minister Virbhadra Singh has expressed grief over the tragic mishap that took place in Beas River near Thalot in Mandi district yesterday evening, in which 25 students of VNR Vignana Jyothi College of Engineering and Technology, Hyderabad were drowned.
Virbhadra Singh reached the spot today early morning and directed the district administration to undertake rescue operations on war footing. He said that a high level inquiry has been ordered to be conducted by Divisional Commissioner, Mandi to inquire into the mishap. Four bodies have been recovered so far. Expert divers of Disaster Action Force, ITBP and BBMB have been engaged to recover the bodies and possible survivors. He expressed hope that all the bodies would be recovered soon.
He said that State Government would arrange airlifting of dead bodies to Hyderabad and relief would be provided to the next of kins of the deceased as per the provisions of the Relief Manual.
District administration has made arrangements for boarding of other students of the institute at Hotel River Bank in Mandi. Chief Minister also met these students and expressed his heartfelt condolences over this mishap. He assured them all out efforts would be made to locate the missing students. He said that State Government would provide facility of their boarding and lodging, besides arrangements would be made for their journey to Hyderabad.
He said that district administration has earmarked places for photography and other adventurous activities alongside Beas River on National Highway. He appealed to the local people and tourists to visit only specified spots to avoid reoccurrence of such tragic incidents.
G.S. Bali, Transport Minister, Sujan Singh Pathania, MPP and Power Minister, Prakash Chaudhary, Excise and Taxation Minister, Anil Sharma, Rural Development Minister, Pratibha Singh, former MP, Karan Singh, Jai Ram Thakur, MLAs, Sanjay Kumar, Director General of Police and senior officers of the State Government accompanied the Chief Minister.